Lawsuit accuses SoHo Apple store of discriminating against employee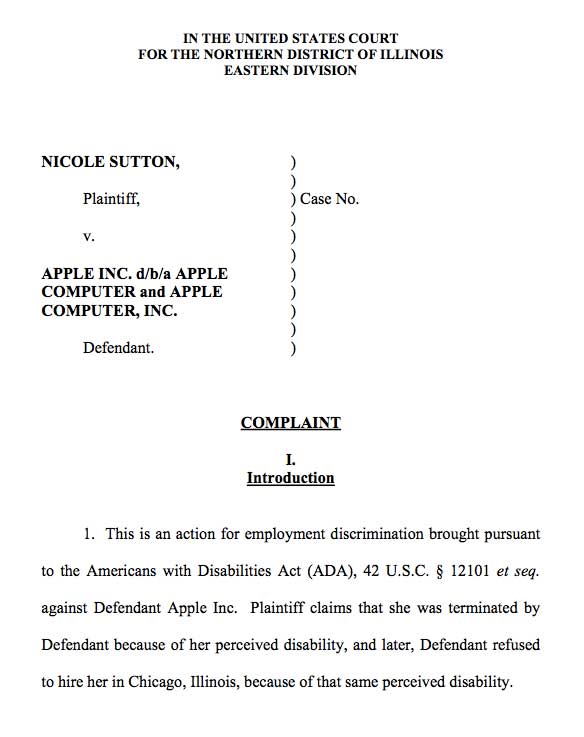 AppleInsider is supported by its audience and may earn commission as an Amazon Associate and affiliate partner on qualifying purchases. These affiliate partnerships do not influence our editorial content.
A former employee of Apple's retail store in the SoHo neighborhood of New York City has filed a lawsuit against the company, claiming she was discriminated against after she took a medical leave of absence.
According to a suit filed in a U.S. District Court in the Northern District of Illinois, Nicole Sullivan, 22, began work at the SoHo Apple Store in 2008. In April of 2009, she took a leave of absence due to a nervous disorder, and sought the services of a psychiatrist.
Sullivan was given disability leave through an independent company, and was reportedly assured by the third party that the details of her medical condition would not be released to Apple. However, when Sullivan returned to work in August of 2009 after she was cleared by a psychiatrist, she said it was "obvious" to her that the store's employees, and "especially" its human resources director, were aware of her medical condition.
In her four month leave, Sullivan's job was replaced, and she was reportedly told that she would remain in a "holding pattern" until proper work was found for her. The lawsuit claims she was sent to a room in the store's basement where she sat at a vacant desk.
"Many days went by and still Plaintiff was not assigned to any particular job, despite requesting that she be assigned to one," the complaint reads. "Plaintiff busied herself occasionally helping others but there were days where she had nothing to do."
The lawsuit states that Sullivan applied for numerous jobs at the store, including a "Genius" position. But, she claims she was told she was denied for that job because "there were questions about her mental stability."
Sullivan eventually moved to Chicago, Ill., because she was told there was an opening at Apple's retail store on North Michigan Avenue, but she did not receive that position either. The suit asserts that Apple engaged in "malice and reckless indifference" to the former employee's rights.
The lawsuit argues that Sullivan was denied positions in Apple because of a "perceived disability," but claims that she was cleared by a psychiatrist and was not mentally ill. It states that she "suffered emotional distress, humiliation and embarrassment" because of Apple's actions.
Through the Law Offices of Richard D. Grossman in Chicago, Sullivan is seeking appropriate back pay, front pay, employment benefits and other compensation that was denied or lost. She also believes she is entitled to $300,000 in punitive damages for alleged discrimination and violation of the Americans with Disabilities Act.
The suit is the second filed this month accusing Apple's retail stores of discriminating against employees. One Florida man in his 60s is attempting to prove that an Orlando store denied him promotions because of his age.