Apple's iPhone trumps Android in enterprise adoption, iPad dominates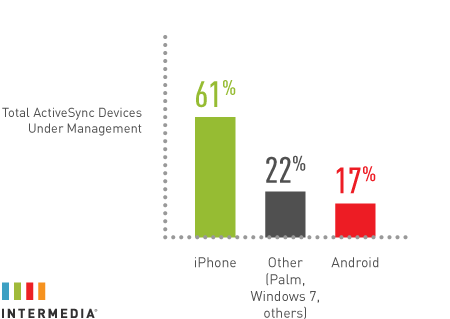 AppleInsider is supported by its audience and may earn commission as an Amazon Associate and affiliate partner on qualifying purchases. These affiliate partnerships do not influence our editorial content.
A new survey of ActiveSync-based smartphones in the enterprise found that Apple's iPhone is the market leader with a 61 percent share and growing, while Google Android owns just 17 percent.
The business user data was released this week by Intermedia, the world's largest Microsoft Exchange hosting provider with 320,000 premium hosted Exchange e-mail accounts. In addition a strong lead for the iPhone, the data also shows market dominance for the iPad, with a 99.8 percent share of ActiveSync-based tablets.
Apple and Google were found to be the leaders in enterprise smartphone operating systems, while the remaining players — Windows Phone, Nokia Symbian and Palm's webOS — accounted for the 22 percent of platforms in the "other" category.
Intermedia's numbers also show that Apple's share of the enterprise continues to grow. In April, the iPhone remained the number one device, and even increased its share to 64 percent among new devices. Android's share also climbed to 33 percent for the month, showing that both platforms are making gains at the expense of competitors.
iPad share continued to remain dominant in April as well, with close to 100 percent of new tablet activations being iPads. Intermedia said it typically sees about 300 new iPads activated in its service per month, but that number jumped to over 900 in March and more than 1,200 in April.
"Professionals want to sync and manage their business email, contacts, and calendars across their computers, smartphones, and tablets," said Jonathan McCormick, chief operating officer of Intermedia. "They also want to use the brands of their choice. Supporting these options can strain an IT department accustomed to managing only one type of device — or an entrepreneur with no IT staff to help with set up. Email services like Intermedia's deliver these productivity capabilities with the click of a mouse and back them up with 24x7 support from certified professionals."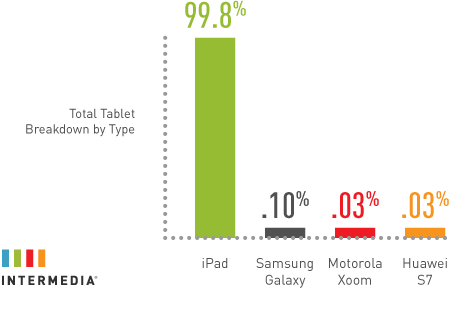 Apple regularly boasts about the success that it has had with the iPhone in enterprise, as well as the quick adoption the iPad has found in the corporate world. In its last quarterly earnings conference call, the company revealed that 88 percent of the Fortune 500 are testing or deploying the iPhone, while 75 percent are utilizing the iPad.
Apple Chief Operating Officer Tim Cook also said that the success of the iPad and iPhone have created a "halo effect" for the Mac. As companies have made iOS-based devices a part of their employees' available tools, they have also begun buying Macs for corporate use.