Patent suit targets Apple, 26 others over wireless transactions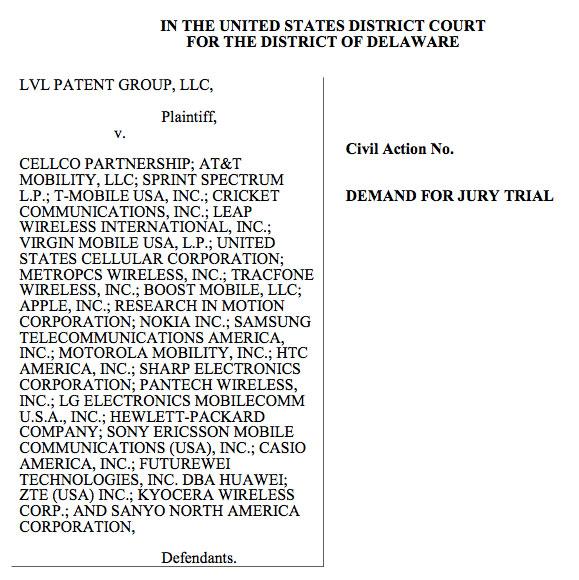 Apple is one of a long list of companies accused of patent infringement in a new lawsuit related to wireless recording of transactions.
The lawsuit from LVL Patent Group LLC accuses Apple and others of violating a total of four patents. While three of them were granted in 2000 and earlier, one invention entitled "Telephone/Transaction Entry Device and System for Entering Transaction Data Into Databases" was issued earlier this month, on Sept. 13, by the U.S. Patent and Trademark Office.
Apple finds itself among a long list of 27 companies that have been accused of patent infringement. Other notable companies targeted in the suit are AT&T, Verizon, Sprint, T-Mobile, Research in Motion, Nokia, Samsung, Motorola, HTC, and Hewlett-Packard.
The lawsuit was filed this month, only two days after the most recent patent was granted by the USPTO. Filed in U.S. District Court in Delaware, it includes four total patents:
Apple and other handset makers are accused of violating the first three patents awarded in 2000 and earlier, while the carriers named as defendants in the suit are also accused of violating the patent awarded earlier this month.
LVL has argued that Apple and other wireless handset manufacturers are violating the three patents "by making, using, selling, offering to sell, or importing mobile communication devices that include a data transaction assembly server." LVL has said that this alleged infringement has resulted in "monetary damages in an amount not yet determined."
The accuser also believes that each of the wireless carriers targeted in its suit violate the latest granted patent by selling products that obtain "data transaction information entered on a telephone, forming a plurality of exploded data transactions for the single transaction, and sending said different exploded data transactions to different destinations, using its mobile services network platform."
LVL has asked that the court apply a permanent injunction preventing the defendants from selling what it believes are infringing products and services. The patent holder is represented by attorneys Richard. D. Kirk and Stephen. B. Brauerman of Delaware-based law firm Bayard.