Sencha embeds interactive CSS3 animations in iBook Author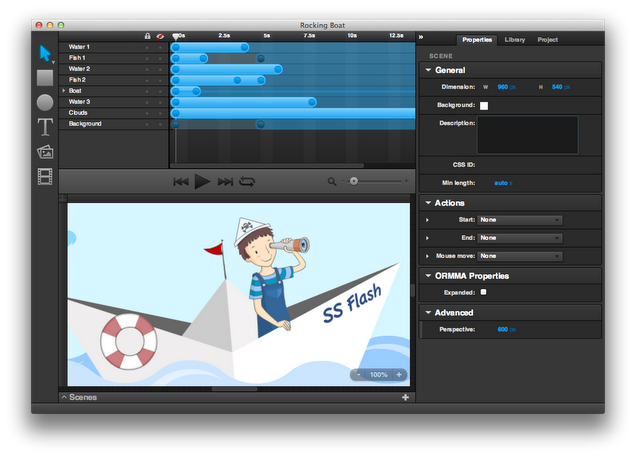 AppleInsider may earn an affiliate commission on purchases made through links on our site.
In 2005, Adobe acquired Macromedia for $3.4 billion to branch out from conventional print publishing into the dynamic web market, largely to get ahold of Flash. Using web standards, Apple has bridged conventional publishing with dynamic, interactive animation in iBooks Author, and Sencha has demonstrated how to extend iBooks with custom, Flash-free animations.
Apple incorporates support in iBooks Author for several built-in widgets, including a gallery viewer, a 3D model viewer, interactive images and review questions. Authors can also create interactive components within Keynote to embed into iBooks, or create their own widgets using Dashcode.
Web developer Sencha has now demonstrated how to use its graphical Sencha Animator tool (below) to build Flash-like animations with interactivity using the features of CSS3, which can then be incorporated into iBooks.
This lets non-programmers create interactive, animated content they can include in their own titles. Once created, users currently have to add an info.plist descriptor file and set the file type to .wdgt, identifying it as a Dashboard widget. The component can then simply be dragged into a iBooks Author page within an HTML widget.
Authors can also develop their own custom widgets using Apple's Dashcode, which is available as part of the Xcode developer tools. However, this requires more sophisticated development skills than many publishers accustomed to working in print are likely to have.
iBooks Author is Apple's strongest push yet into Adobe's print production territory. While Apple has sold iWork Pages for desktop publishing, EPUB and PDF output, iBooks Author aims at capturing an exclusive role in creating sophisticated iPad ebooks, starting with textbooks in the education market where Apple already maintains a strong position.