80% of Good Technology enterprise activations are Apple's iPhone, iPad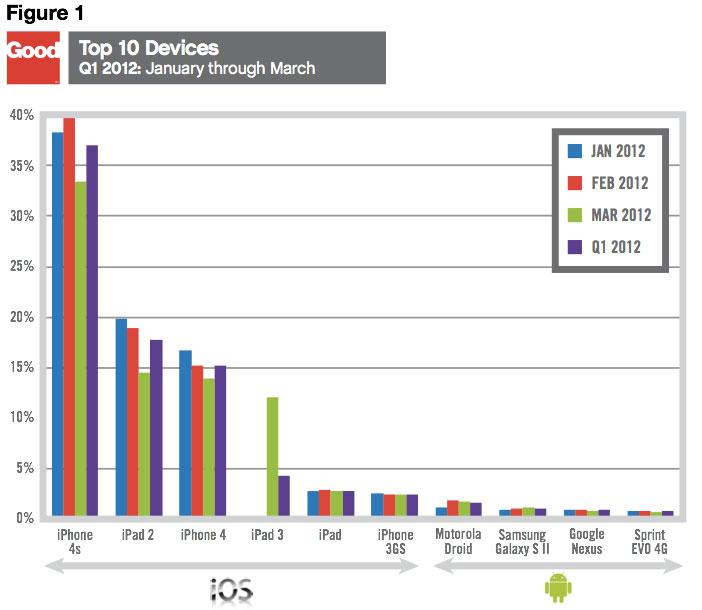 AppleInsider may earn an affiliate commission on purchases made through links on our site.
The top six most-activated devices in the workplace tracked by Good Technology were all Apple devices, with the iPhone and iPad accounting for 79.9 percent of customer activations.
The iPhone 4S was by far the most popular device activated by Good's customers in the first quarter of 2012, accounting for 37 percent of all activations. That built on the record 31 percent of activations Apple's latest-generation smartphone took in the fourth quarter of 2011.
In second place was the iPad 2, which accounted for 17.7 percent of enterprise activations tracked by Good. Close behind in the first quarter was the iPhone 4, which represented 15.2 percent of activations.
Apple's new iPad, released only weeks before the March quarter ended, had a strong initial showing in fourth place. The third-generation tablet represented 12.1 percent of activations in the month of March, and 4.3 percent across the whole quarter.
The first-generation iPad came in fifth place with 2.8 percent of activations in the quarter, while 2.5 percent of Good customers also continued to add Apple's iPhone 3GS, first released in 2009, to their lineup.
The most popular Android device tracked by Good was the Motorola Droid, which came in seventh place with 1.6 percent of activations. It was followed by the Samsung Galaxy S II in eighth, the Google Nexus in ninth, and in tenth was the Sprint EVO 4G smartphone.
No Android-based tablets cracked the top 10 devices, and Good Technology found that 97.3 percent of tablet activations in the first quarter of 2012 were of Apple's iPad.
The iPad was activated the most in three industries: financial services, business and professional services, and life sciences. The mobile device management company revealed that the life sciences category showed "disproportionally higher rates of iPad activations when compared to other overall device activations."
For companies that support both iOS and Android smartphones, Apple remains the dominant choice at 78 percent among Good Technology customers, compared to 28 percent for Android.
The latest numbers show Apple in an even stronger position than Good's last report issued in January. That data, covering the fourth quarter of 2012, found that the iPad represented 96 percent of enterprise tablet activations, while the iPhone was 53 percent of phones.