iPhone fire on Australian plane caused by shoddy screen replacement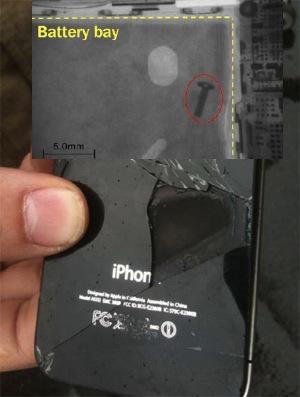 An investigation into the cause of an iPhone 4 that began glowing and emitting "dense smoke" on a flight landing in Sydney, Australia last fall has traced the problem to a battery punctured by a screw misplaced during a botched attempt to replace the device's screen.
The incident, which occured last November, initially stoked concerns about the safety of high powered lithium batteries in general, given other isolated cases of battery failure including a batch of Sony batteries used in Apple's iBook and PoweBook G4 notebooks in 2006, and an separate problem with first generation iPod nano units from 2005 and 2006.
However, rather than being a manufacturing defect, a report by ZDnet notes that the Australian Transport Safety Bureau found the overheating iPhone was caused by a screw left behind during a screen replacement performed by an unauthorized repair center.
The relatively large screw, "from the bottom of the unit, adjacent to the 30-pin connector," was discovered inside the body of the device in an X-ray (shown above), where it punctured the battery pack, resulting in its overheating.
Referencing the Australian Civil Aviation Safety Authority's recommendations, the ATSB's chief commissioner Martin Dolan stated that "when traveling with mobile phones, laptops and other portable electronic devices — or just their batteries — passengers should, wherever possible, carry them in the cabin, and not in checked-in baggage."
Dolan also noted that the incident "highlights the importance of good maintenance and repair processes for these devices, and the risk of using non-authorised repair agents."