Apple's Mountain Lion to offer automatic security updates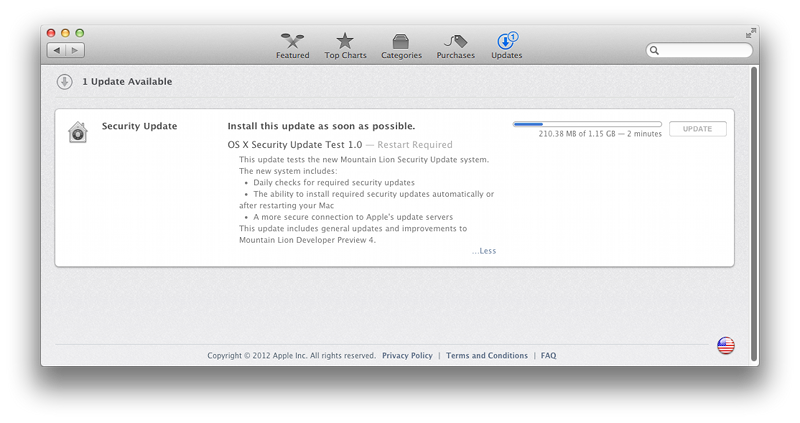 It was revealed on Monday that Apple's upcoming OS X Mountain Lion will feature an automatic security check feature that will ensure users have the most up-to-date software protection amid a growing number of Mac-targeted malware.
An update to the Mountain Lion Developer Preview shows a new automated system that runs a daily check with Apple's servers to make sure OS X 10.8 users have the most current security patches and protections against known malware and viruses.
Called "OS X Security Update Test 1.0," the automated feature will run either daily or whenever a Mac restarts and has the ability to download and install updates in the background, making the task of manually performing checks less of a necessity.
The new feature also creates a "more secure connection" to Apple's servers possibly hinting to new encryption technology or more stringent default settings. Also included are the usual stability and general updates for the operating system set for launch in July.
Apple is making security a priority in the next iteration of OS X to counter new threats that continue to crop up as Macs gain a larger user base. In April the highly-publicized Flashback trojan used a Java exploit to spread onto an estimated 600,000 Macs around the world prompting Apple to release both a Java disabler for Safari and a standalone malware uninstaller.
In a related action, Apple notedly toned down the language of its OS X webpage, changing the statement that the Mac "doesn't get PC viruses" to "It's built to be safe."
Coming exactly one week after OS X Mountain Lion Developer Preview 4 was released, the new Security Update is available through the Mac App Store and comes in at 1.15 GB.