Apple, Google bidding on Kodak patents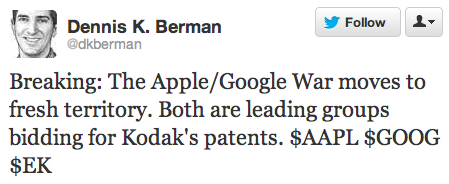 It was revealed on Friday that both Apple and Google and putting bids in for Kodak's patent portfolio though details regarding the arrangements are scarce.
In a tweet from Wall Street Journal editor Dennis Berman, Apple and Google were named as perspective customers of Kodak's upcoming patent sell-off expected to take place in August. A follow-up tweet noted the two companies were front-runners in the patent bidding war.
Kodak seeks to sell off part of its massive patent pile, specifically IP in the 'digital-capture' portfolio, as part of terms attached to a granted loan meant to keep the company afloat during corporate restructuring.
While it was known that the former photography giant was shopping around patents, the parties involved in bidding were kept secret until now.
According to the Journal, Apple has reportedly formed a group with Microsoft and patent firm Intellectual Ventures to bid against Google's group of powerhouse companies Samsung, HTC, LG and patent firm RTX. The groupings are similar to a previous Nortel patent sell-off that pitted Apple, Microsoft, Research in Motion, Sony and EMC against Google and Intel.
Most recently Apple lost a bid to transfer a Kodak suit out of New York bankruptcy court and into the state's district court, move that could have hindered the photography pioneer's patent sale proceedings.