iPhone 5 carrier update fixes bug causing cellular data use while on Wi-Fi [u]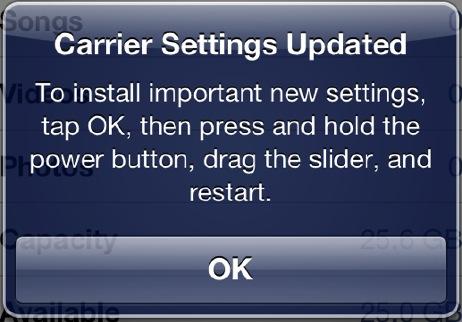 Apple on Sunday rolled out a carrier update for Verizon iPhone 5s which fixes a bug that in some cases caused the handset to use cellular data even while connected to a Wi-Fi network, eating away at precious data allowances [update: Verizon responds]
According to Apple's support page regarding the fix, the carrier settings update resolves an issue where some iPhone 5s "may use Verizon cellular data while the phone is connected to a Wi-Fi network."
From the installation guide:
1. Tap Settings > General > About.
2. Wait for the following alert to appear:
3. Tap OK to install the update.
4. Hold the Sleep/Wake button down until you see "slide to power off".
6. After the device powers off, hold the Sleep/Wake button to turn your phone back on.
Note: To finish the installation of the update, your iPhone 5 must be turned off and then on again.
After your iPhone restarts, tap Settings > General > About, then scroll down to Carrier and verify that "Verizon 13.1" is displayed.
Update: In a statement to The Loop, Verizon said that customers will not be charged for "unwarranted cellular data usage."
The update comes after a number of iPhone 5 users took to Apple's Support Communities webpage to complain that their newly-purchased handsets were racking up data usage charges despite being connected to functioning Wi-Fi networks. In the 8-page thread, some owners speculated the issue was related to iOS 6, while others claimed it was a hardware problem with Apple's new handset.
While Sunday's update is for Verizon Wireless customers only, some thread posts noted similar issues with AT&T as well, however the validity of their claims have yet to be verified.
In a separate thread, owners of older iPhone models, especially the iPhone 4 and 4S, have also complained of excessive data use after installing the latest iOS 6. The issue doesn't appear to be tied to a specific carrier, and recent posts point to data usage peaking during overnight hours.
It is unclear whether Verizon will be refunding users affected by the unintentional data usage, and Apple has yet to announce what exactly caused the issue.