Still in beta: Siri falls short when searching for Apple retail stores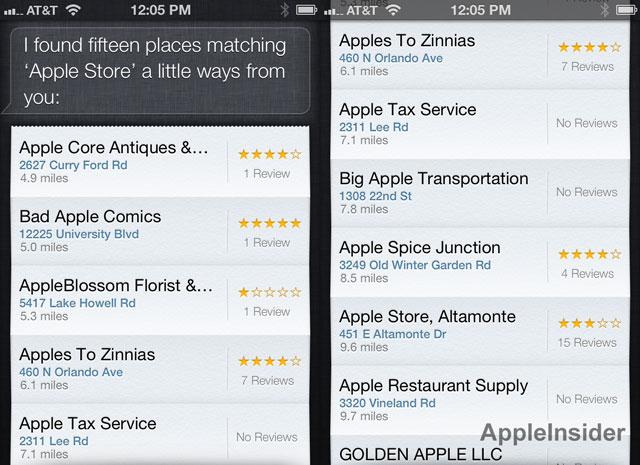 A year after Siri first launched, Apple's personal assistant still falls short when accomplishing basic tasks that one might assume would be a priority for the company, such as finding a local Apple Store.
In tests conducted by AppleInsider around the U.S., queries for Siri to find the nearest Apple Store returned a number of nearby businesses with the word "apple" in their name. However, actual Apple retail stores did not appear among the top five location-driven results with Siri on iOS 6 in New York, California, and Florida.
For example, in Orlando, the top three results provided were "Apple Core Antiques," "Bad Apple Comics," and "AppleBlossom Florist." A real Apple Store was not provided until the eighth result, requiring the user user to scroll down in order to find it.
In San Francisco, the top results included "Fix My Phone SF," "Feng Apple," and "Apple Tree Day Care." Here again, the requested Apple Store did not appear until the eighth result, while in New York an Apple Store was the ninth item returned.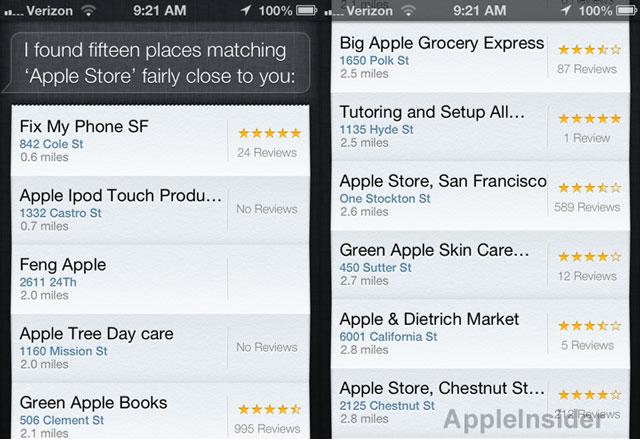 Another test conducted in Hawaii on the island of Oahu did return actual Apple Stores in its first two results. But they were followed by "Mountain Apple Company" and "Apple Puppy Dog Beauty Salon" before providing the third nearby Apple Store.
To be clear, Apple's retail stores do still show up in the search results, but the stores are found among a much longer list of irrelevant locations. This requires users to pore over the results themselves to find what they are actually looking for.
The local search results conducted through Siri appear to be driven largely by proximity to the user rather than accuracy. The "beta" personal assistant software will simply list all nearby businesses matching a provided name or description, even when searching for Apple's own stores.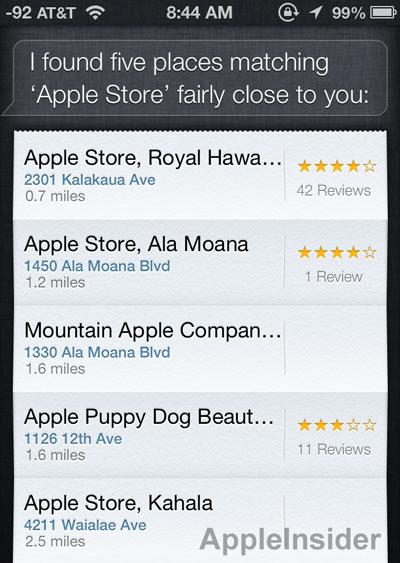 The subpar results a year into public availability of Siri highlight Apple's struggles to produce a search algorithm that can compete with market leader Google. For example, similar searches on Google Maps return nothing but actual Apple Stores. Even a general Google Web search for "Apple Store" conducted on an iPhone presents Apple's nearest retail locations, shown among the results after a pair of paid advertisements and the top result of Apple's online store.
Bloomberg Businessweek revealed in a profile published on Wednesday that before he died, Apple co-founder Steve Jobs considered removing Google as the default search engine on iOS devices. However, it was ultimately decided that such a drastic move would only serve to upset customers. Though other options such as Microsoft's Bing have been added to iOS devices, Google remains the default search provider on the Safari Web browser on the iPhone and iPad.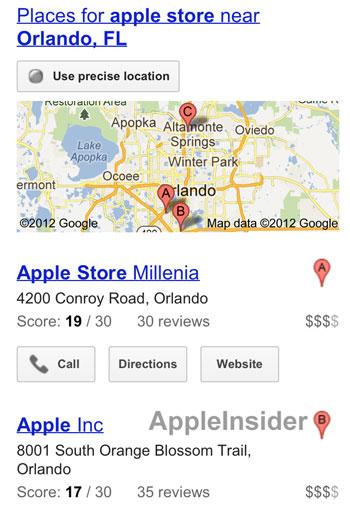 Siri will turn to Google if it cannot find the answer to a user's query. However, asking Siri for local businesses provides results from Apple that are accompanied by reviews from Yelp.
The poor results provided by Apple are not a result of Yelp, either: Searching for "Apple Store" on its website first lists all local Apple Stores, as well as some related results like Best Buy, which is home to an Apple mini-store.
Siri originally debuted in 2011 exclusively on the iPhone 4S. With the launch of iOS 6 last month, the voice-driven personal assistant was brought to the third-generation iPad. The newly released iPhone 5 also has built-in Siri integration, while the forthcoming fifth-generation iPod touch will also offer support for the service when connected to Wi-Fi. Apple's official website still advertises Siri as a "beta" product.
AppleInsider has affiliate partnerships and may earn commission on products purchased through affiliate links. These partnerships do not influence our editorial content.