Microsoft set to launch Xbox Music with free unlimited streaming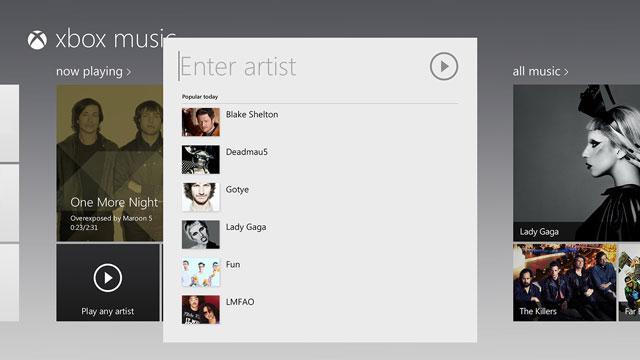 AppleInsider is supported by its audience and may earn commission as an Amazon Associate and affiliate partner on qualifying purchases. These affiliate partnerships do not influence our editorial content.
This week, Microsoft will step up its competition with Apple's iTunes with the launch of Xbox Music, a new service that offers unlimited streaming to Microsoft devices, including PCs running Windows 8.
For now, the Xbox Music service will be limited to only devices running Microsoft's new Windows 8 and Windows Phone 8 platforms, as well as the Xbox 360 game console. A hands-on preview of Xbox Music was published on Monday by Gizmodo.
While the basic, free service offers unlimited streaming to Windows 8 tablets and PCs, customers who pay a $10-per-month subscription can also download songs, and stream to their Xbox game console as well as Windows Phone 8 handsets. It's a business model similar to Spotify, which offers free ad-supported streaming to desktops, while only subscribers can stream to their mobile device.
The basic free service is currently scheduled to last six months, but author Kyle Wagner noted that period could be extended, depending on what kind of deal Microsoft can reach with music publishers.
"For local music files that you add to your library, Xbox Music sort of works like Google Play Music, with a bit of iTunes Match thrown in," Wagner wrote. "It uses a 'scan and match' process to see if you've uploaded tracks that it has on file, and if it finds a match, you'll be able to stream it from the cloud, even if it's not available over XBM's streaming service."
Tracks that aren't matched up locally can be manually added to a Windows Phone. However, streaming of un-matched tracks is not yet available — a feature that's already available through iTunes Match and Google Play.
Xbox Music will be the default music player for Windows 8, and the free mode is activated by default if users have set up Windows with a Live account and credit card. One click will agree to the free trial of Xbox Music.
Xbox Music will debut on the Xbox 360 game console Tuesday, while the public will be able to get their hands on Windows 8 when it launches on Oct. 26.
Microsoft's new music streaming service comes as Apple is said to be in talks with music providers to provide its own Internet radio service. Apple is said to be looking to license music to allow users to build a custom radio service similar to Pandora.
However, Apple's plans for an Internet radio service have reportedly been held up in those negotiations. Specifically, talks were said to have hit a "last-minute snag" with Sony/ATV, the world's largest music publisher.
The new radio service from Apple is expected to focus on virtual stations to play music on a Web browser or through dedicated applications on iOS devices. Advertisements from Apple's iAd platform are expected to be incorporated into the service in exchange for free user access.