Apple buys small HTML5 design and marketing firm Particle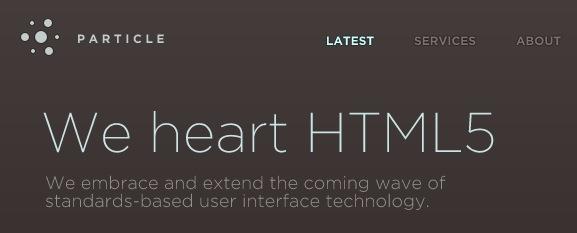 Apple has reportedly acquired creative consulting company Particle, a small San Francisco based collective of less than a dozen employees specializing in web applications and marketing using HTML5.
According to CNET, Apple finalized the purchase late last month, bringing over most of Particle's employees whose LinkedIn profiles now list their occupation as "creative technologists" and one as a "user interface engineer." It appears that the acquisition was more of a group hire than a move to secure IP, as has been the case in recent Apple purchases.
Founded in 2008 with the help of celebrity backer Justin Timberlake, Particle is a self-described "professional services business in creative concept work, visual and user experience design, and technical implementation."
From Particle's "About" page:
HTML5 and the WebKit rendering engine already drive the web experience on devices like the iPhone, iPad, and Android, but are increasingly becoming the lowest common denomination on the desktop web in next generation browsers like Google's Chrome, and Apple's Safari. Particle has chosen to focus on this technology so intensely because we believe it will soon be the rendering engine that powers a new universe of light weight and embedded applications from set top boxes to game consoles to Chrome OS and Android devices to portable telephony and media devices of all kinds.
As for the new hires, a number have worked with Yahoo and Google on design projects, and the firm's website notes that its founders worked closely with Apple, Disney, Sony, Sony Ericsson, Google, Yahoo!, through other design and consulting agencies. In specific, Particle Founder and Chief Technology Officer Aubrey Anderson consulted for Apple between 2006 and 2008.
It is not known how Apple will implement the new team, but the Cupertino company has recently been pushing hard for HTML5 solutions, as evidenced by its war against Flash-based software.
The details of the deal are scarce, including the price Apple paid for the consulting firm, and neither party has issued a statement regarding the matter.