Images of alleged 13" Retina MacBook Pro show ports, internal components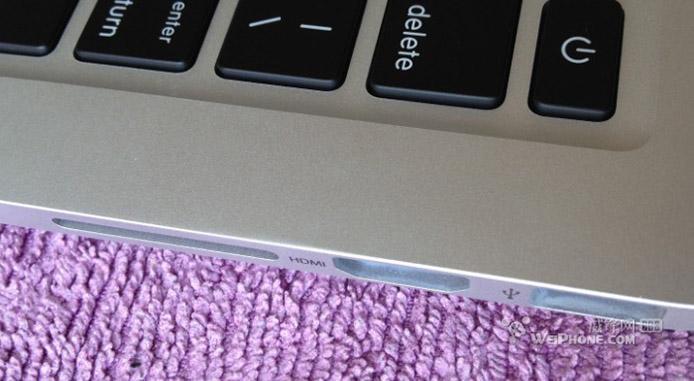 AppleInsider is supported by its audience and may earn commission as an Amazon Associate and affiliate partner on qualifying purchases. These affiliate partnerships do not influence our editorial content.
New photos claiming to be of an as-yet-unreleased 13-inch MacBook Pro with Retina display show the purported laptop's battery cell and external connectivity options, which include two Thunderbolt ports, an SD card reader and HDMI output.
Ahead of Apple's Oct. 23 media event, a number of photos alleging to show a Retina display-toting 13-inch MacBook Pro surfaced on Friday, offering what could be hints to the rumored machine's hardware specs.
The images, which come from Chinese language forum Weiphone (via MacRumors), show what is claimed to be the port configuration, battery cell array and other particulars of the rumored Apple laptop.
Surprisingly, the allegedly leaked machine looks to be in working order, and is shown running Windows 7 at 2,560-by-1,600 pixels, lending evidence to rumors in August that claimed display makers were producing screens with an identical resolution.
Also shown are multiple close-up shots of the purported machine's logic board, 8GB of Elpida RAM and screen assembly.
While the legitimacy of the images cannot be confirmed, the parts do line up with rumors suggesting Apple will soon release a Retina display carrying version of its smallest MacBook Pro.
It was reported earlier in October that low yields of the expected 13-inch Retina MacBook Pro's high-resolution display forced Apple to delay the device's launch.
Apple is widely expected to unveil a small form factor iPad, dubbed "iPad mini" by the media, at a special event next week, with sources saying the company is also likely to introduce a 13-inch MacBook Pro with Retina display.