Apple-built wearable computers seen as long-term replacement for iPhone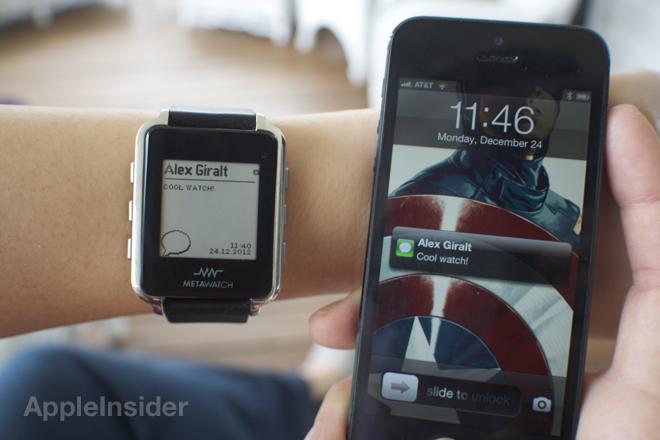 While Apple probably won't get into the watch making business in the immediate future, one analyst believes that wearable computers could ultimately replace the iPhone in the long term, much like the iPhone has replaced the iPod.
Gene Munster with Piper Jaffray issued a note to investors on Wednesday tackling the possibility of wearable computers in Apple's future. The note was issued in response to an unlikely rumor that claimed Apple is working with Intel to build a "smart watch" accessory that would tap into high-end iPhone functions including voice calls.
Munster doesn't see a hypothetical Apple watch debuting any sooner than 2014, but he does believe that wearable computers could replace the iPhone and smartphones in general over the next 10-plus years.
"We believe technology could progress to a point where consumers have a tablet plus wearable computers, like watches or glasses, that enable simple things like voice calls, texting, quick searches, navigation, etc. through voice control," Munster wrote. "Longer term, screens in glasses or projectors could replace the necessity of a screen from a smartphone or tablet."
These devices could eventually prove to be cheaper to manufacture than the iPhone, Munster believes, which could prove to be the company's "best answer to addressing emerging markets."
But Apple isn't expected to begin selling any wearable computing devices in the immediate future. That's where Munster sees Apple leveraging its Made for iPhone program to fill the gap for early adopters.
"We believe the company could utilize its MFi program to benefit other companies making wearable devices," he said. "Examples could include clothing, shoes, belts, earrings, bracelets, hats, etc."
He sees clothing and accessories providing information such as body temperature, steps taken, calories burned, blood sugar and more to a device like an iPhone.
Some basic wearable computers compatible with the iPhone are already available for purchase. Last week, AppleInsider took a first look at the MetaWatch, a third-party accessory that receives phone call and text message alerts from the iPhone, as well as information such as calendar entries and weather.