Apple's 'black ice' predicted to 'thaw' by summer, pushing stock back toward $700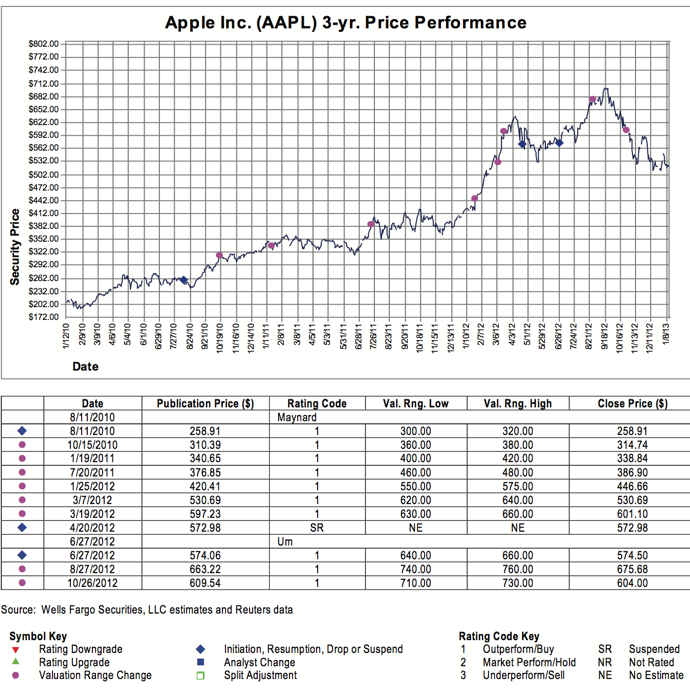 AppleInsider may earn an affiliate commission on purchases made through links on our site.
With 2013 off to a tough start for Apple stock, one analyst attempted to ease investor concerns on Friday, noting that comparisons to a strong 2012 will begin to ease as the year goes on.
A year ago, the iPhone 4S and iPhone 4 shared common components, helping to boost Apple's gross margins, Maynard Um of Wells Fargo Securities said in a note to investors on Friday. Along with a record setting launch of the iPhone 4S in the 2011 December quarter, he believes it could make for a tough comparison for Apple for the start of the year.
But Um sees Apple's difficult 2012 comparisons easing as the year goes on. He expects that Apple's next iPhone, the so-called "iPhone 5S," will share design similarities to the current iPhone 5, helping to improve margins.
Because of that, Apple's current "black ice," as Um put it, is predicted to "thaw through summer." He sees easier comparisons to 2012 along with improving gross margins, which could improve sentiment among investors.
"While this requires some patience as the cycle transitions and then matures to drive gross margin, we believe valuation will rise with sentiment," Um said.
"While there seems to be some concern around competition and diminishing demand, had some operators not been as restrictive on upgrades relative to past new product launches, Apple would have experienced an even stronger launch, making what we expect to be a record setting December even more impressive."
Wells Fargo Securities has a projected valuation range for AAPL stock from $680 to $730. That's a wider range than their previous forecast of $710 to $730.
For the December quarter, Um expects Apple sold 48 million iPhone units, with about three quarters of those being the new iPhone 5. And iPad sales are projected to be 20.2 million, with about half of them being the iPad mini, dropping the average selling price to $450.
His revenue estimate of $53 billion is below consensus of $54.7 billion, while his earnings per share forecast of $13.67 is above the Street's $13.41.