Reservations for unique 'Mailbox' iOS email client go live weeks ahead of launch

Citing an expected high interest in its intuitive free email client, Mailbox on Tuesday opened up entries for a reservation system that will help manage demand when the app finally hits the App Store sometime in the coming weeks.
From the same company that created the well received Orchestra To-do app, Mailbox attracted media attention last month when it released a video showing off the unique attributes of the email client. Interest was such that a reservation system is now being instituted to deal with what is expected to be overwhelming demand.
AppleInsider was able to try out a working beta of Mailbox over the past few weeks and found the app to be a solid accompaniment to a user's email workflow. The app is not built as a simple email reader, but instead as a type of "to-do" list for emails.
While a traditional email client lists unread messages, Mailbox's main inbox displays conversations that need immediate attention, allowing users to focus on their most important emails in a timely manner. Other, less important messages can be sent to a unique "Later" inbox for later perusal, while emails that are completed can be placed in an archive folder. In other words, it makes emails a checklist of things to do.
To facilitate the "to-do" functionality, Mailbox offers a unique set of "snooze buttons" that, when activated, will move an email conversation from the main inbox to the "Later" inbox. Users can select from a number of snooze options, like "later today, tomorrow, next month or sometime," that will bring the message string back into the main inbox at a predetermined time. For example, if a user receives an email that isn't urgent, but will require attention the next day, they can set the snooze for "tomorrow," which will take the conversation out of the active inbox and return it the next day. Snooze time settings are fully customizable.
The user interface is intuitive, with a clean negative space layout and bold iconography that is easy to understand and interact with. Reminiscent of the to-do app "Clear," users perform left and right swipe gestures to set snooze timers or move message strings to the archive folder, a customizable lists folder or to delete the conversation entirely.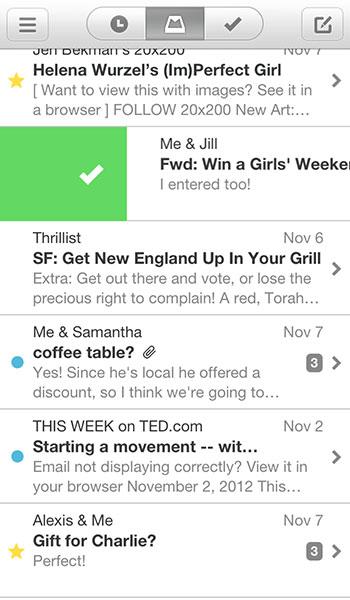 As of this writing, only Gmail is supported, a main reason the app can't yet replace a full-fledged client like iOS Mail, but the company said it will be adding support for other services down the line.
Mailbox will be released in the App Store soon and the company will be filling reservations on a first-come, first-served basis. For those interested in the free app, click here to save a place in line.
Once a spot has been reserved, Mailbox will send out an SMS message with a unique reservation number denoting a customer's place in line. A private code will also be issued which will be needed to claim the app when the app is ready.