Apple seeds eighth OS X 10.8.3 beta build with no known issues
By AppleInsider Staff
Thursday, January 24, 2013, 07:02 pm PT (10:02 pm ET)
Apple on Thursday issued the eighth beta of OS X 10.8.3, the forthcoming maintenance update for Mountain Lion, with minor changes made to Wi-Fi assets




The latest pre-release build, designated as "12D58," was seeded to developers just over a week after Apple sent out the previous beta of OS X Mountain Lion. Any changes that may have been made to the software from its previous release are unknown.

As with earlier releases, the latest 12D58 build asks developers to focus their energies toward testing AirPlay, AirPort, Game Center, Graphics Drivers, and Safari.

Since December, developers have been able to receive update notifications through Software Update and download beta builds directly from the Mac App Store by using the new "OS X Software Update Seed Configuration Utility."
Today's Headlines
No news headlines yet today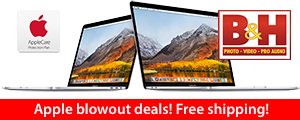 2017 12" MacBooks
Price
Save
1.2GHz/8GB/256GB (Gold)
$799.00+
$500
1.2GHz/8GB/256GB (Rose Gold)
$799.00+
$500
2018 13" Touch Bars
Price
Save
2.3GHz/8GB/256GB (Gray)
$1,649.99+
$150
2.3GHz/8GB/512GB (Silver)
$1,879.00+
$120
2.3GHz/16GB/256GB (Gray)
$1,949.00+
$50
2.7GHz/16GB/512GB
$2,449.00+
$50
2.7GHz/16GB/1TB
$2,849.00+
$50
2018 15" MacBook Pros
Price
Save
2.2GHz/16/256GB/555X
$2,549.00+
$50
2.2GHz/16/512GB/555X
$2,575.00+
$225
2.9GHz/16/1TB/560X
$3,199.00+
$300
2.9GHz/32/2TB/560X (Gray)
$3,999.00+
$700
2.9GHz/32/4TB/560X (Gray)
$5,999.00+
$700
Click here for dozens more configurations
+ Free shipping within the contiguous U.S.
Lowest Prices Anywhere!

13" MacBook Pros
Price
You Save
3.1GHz/8GB/256GB Gray
$1,679.00
$120.00
3.1GHz/8GB/256GB Silver
$1,704.00*
$95.00
3.1GHz/8GB/512GB Gray
$1,849.00*
$150.00
3.1GHz/16/512GB Gray
$2,099.00
$100.00
15" MacBook Pro
Price
You Save
2.8GHz/16/256/555 Silver
$2,199.00*
$200.00
2.8GHz/16/256/560 Gray
$2,299.00
$200.00
2.9GHz/16/512/560 Gray
$2,599.00
$200.00
2.9GHz/16/1TB/560 Gray
$2,999.00
$200.00
3.1GHz/16/512/560 Gray
$2,799.00
$200.00
3.1GHz/16/2TB/560 Gray
$3,899.00
$300.00

*

price with Promo Code:

APINSIDER

prices.appleinsider.com for more configurations