Apple 'leaving money on the table' by not releasing big-screen iPhone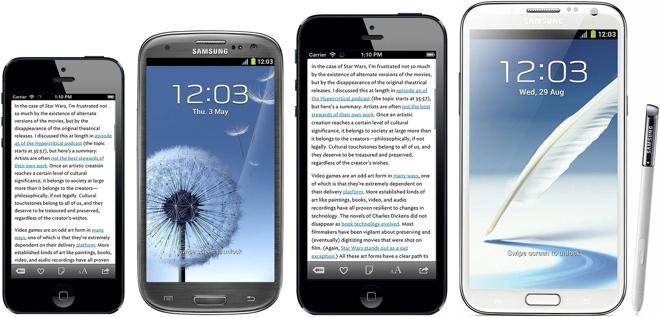 Calls for Apple to make an iPhone with a larger display around 5 inches diagonally are growing among investors, who see a big-screen iPhone as a major revenue opportunity.
Mockup of iPhone with 4.94-inch screen, created by Marco Arment.
A pair of prominent analysts this week issued reports calling on Apple to release a so-called "phablet," positioned between a smartphone and a tablet. Such a device would allow Apple to compete with Samsung's popular Galaxy Note series, and to stay in step with the rest of the smartphone industry, which is trending toward larger handset displays.
Shaw Wu of Sterne Agee admitted that big-screen Android phones have been a greater success than he and others expected. He also cited supply chain data, which suggests Samsung plans to release a new flagship device, the Galaxy S4, in April with a 5-inch touchscreen.
"We believe AAPL is leaving money on the table by not participating in larger touchscreen form factors," Wu wrote in a note to investors. "But more importantly, we believe AAPL needs to reclaim high-end leadership as that is what brand is about. Sure, iOS, iTunes and the App Store are great, but it is clear that many customers want larger screens."
Joining Wu this week in calling for an iPhone with a bigger display was Ben A. Reitzes of Barclays. He believes that sales of "phablets" with screen sizes greater than 5 inches will catapult from 27 million in 2012 to 230 million in 2015.
Reitzes believes Apple could launch a 5-inch iPhone in its lineup at the end of this year or in early 2014. He predicts a 5-inch iPhone would offset some of the average selling price declines Apple would see from an anticipated low-cost iPhone for emerging markets.
Last week, Marco Arment, developer of Instapaper and The Magazine, offered an explanation of how Apple could build a so-called "iPhone Plus" without creating a new resolution for developers to support. He suggested Apple could release an iPhone with a 4.94-inch diagonal display with the same 640-by-1,136-pixel resolution as the current iPhone 5.
At that resolution, the "iPhone Plus" screen would have a screen density of 264 pixels per inch. Arment also noted "significant demand" for larger handsets like the Galaxy Note.
"The iPhone has lost a significant number of sales by buyers either wanting a larger screen or being drawn to how much better the large screens look in stores," he said.