Apple grabs more than 20% of global PC market in Q4 2012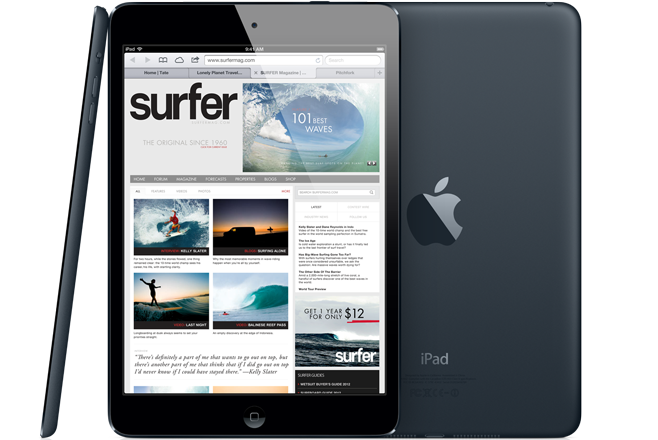 Counting tablets, Apple's share of worldwide PC shipments surpassed 20 percent for the first time ever during the last quarter of 2012, one research firm reported on Wednesday, with the iPad accounting for one in every six shipped computers.
Data from research firm Canalys shows Apple's PC shipments rose to 27 million units — 23 million iPads and 4 million Macs — over the three-month period ending in December.
Driving Apple's push was the iPad mini, which was estimated to account for over half of the company's tablet shipments.
"Apple timed the launch of the iPad mini well," said Canalys Research Analyst Pin-Chen Tang. "Its success proves there is a clear demand for pads with smaller screens at a more affordable price.
Without the launch, Apple would surely have lost more ground to its competitors."
Despite seeing record-breaking numbers, the iPad lineup garnered 49 percent of the overall tablet market, dropping its share below 50 percent for the first time since the device was released in 2010.
For the fourth quarter, the tablet segment grew some 75 percent year-over-year to reach 46.2 million units, contributing to the 114.6 million devices shipped over 2012. Netbook shipments were flat, according to the firm.
Behind Apple was HP and Lenovo, which came in second and third, respectively, on shipments of roughly 15 million units each.
Samsung entered the top five for the first time after strong tablet demand brought the company's PC shipments up to 11.7 million units. Low-cost products pushed the Korean company's tablet shipments to 7.6 million tablets over the last quarter of 2012, a 226 percent increase from last year.
"The sub-$200 price bands now feature products from established players that do not rely on low-quality components," said Research Analyst Tom Evans. "Those who control ecosystems, such as Amazon and Google, can obtain revenue from content sales, but pure hardware OEMs must accept decreasing margins or exit."