Samsung overtakes Apple as top 'smart connected device' vendor in 2012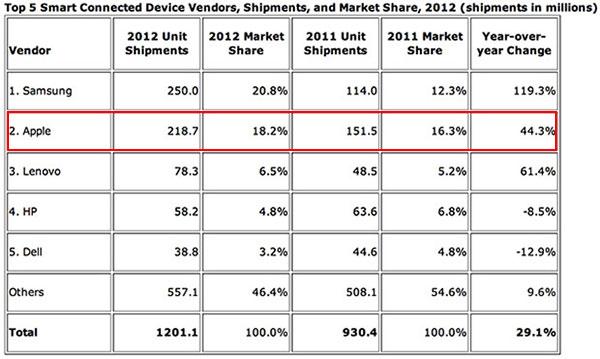 AppleInsider is supported by its audience and may earn commission as an Amazon Associate and affiliate partner on qualifying purchases. These affiliate partnerships do not influence our editorial content.
Fresh data from IDC shows that Samsung surpassed Apple in collective PC, portable PC, tablet and smartphone shipments for 2012, with the Korean outfit moving 250 million devices over the 12 month period.
Overall, the segment, which IDC calls "smart connected devices," reached shipments of 367.7 million units in the last quarter of 2012, up 28.3 percent from one year ago. For the entire year, the firm's Worldwide Quarterly Smart Connected Device Tracker saw manufacturers ship a staggering 1.2 billion devices, a 29.1 percent uptick from 2011.
Driving the shift toward the so-called smart connected devices were Apple and Samsung, which combined took a 41.3 percent share of the market in the December quarter. While Apple was the previous number one vendor, taking a large portion of smartphone sales and being largely uncontested in the tablet arena, Samsung edged out the Cupertino, Calif., company by a little over 3 million shipped units for the last quarter of 2012.
Samsung took 21.2 percent of the smart connected device market on shipments of 77.9 million, up 86 percent from the year ago quarter. By comparison, Apple's marketshare grew by 29.7 percent over the same period to hit 20.3 percent of the market on shipments of 74.8 million units.
"The fourth quarter market share numbers showed a fairly dramatic resurgence for Apple," said Bob O'Donnell, IDC vice president of the Clients and Displays program. "After falling well behind Samsung early in 2012, Apple came roaring back in final quarter of the year thanks to its latest hits – the iPhone 5 and the iPad Mini – and reduced the market share gap to less than a single percentage point. The question moving forward will be whether or not Apple can maintain its hit parade against the juggernaut of Samsung."
Coming in a distant third was Lenovo, which managed to net 6.6 percent of the market after shipping 24.3 million devices, a year-over-year change of 47.2 percent. HP and Sony rounded out the top five with unit shipments of 15.1 million and 11.1 million, representing 4.1 percent and 3 percent of the market, respectively.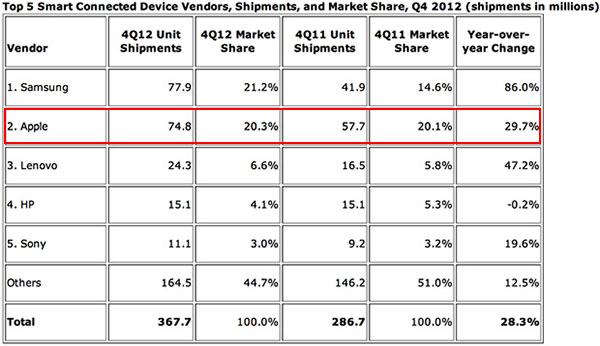 For the year, Samsung shipped 250 million units, representing a 119.3 percent year-to-year increase that was fueled in large part by the company's popular smartphone lineup. The iPad's dominance helped Apple stay close in overall numbers as the tablet market enjoyed a growth rate of 78.4 percent, the highest of any smart connected device.
The metrics tell only half the story, however, as shipment values went unreported. In December, IDC found that for the third quarter of 2012, Samsung lead in device volumes, but Apple's high-value products raked in the most cash. At the time, Apple trailed Samsung in quarterly market share by 6.7 percent, compared to the last quarter's 1.9 percent gap.