Morgan Stanley expects 6% dividend, cheaper 'iPhone mini' after meeting with Apple CFO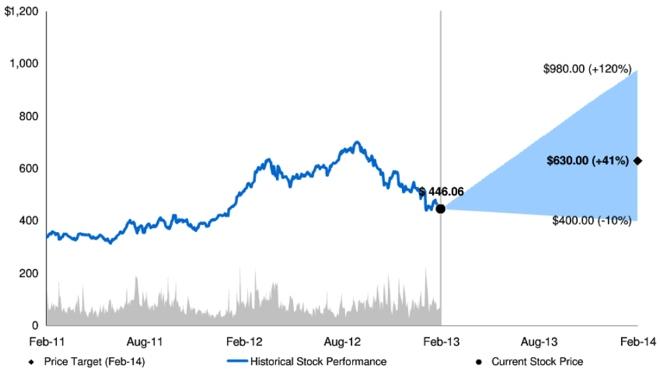 AppleInsider may earn an affiliate commission on purchases made through links on our site.
Morgan Stanley analyst Katy Huberty recently met with Apple Chief Financial Officer Peter Oppenheimer, and came away with the impression that Apple will likely increase cash return to shareholders, and potentially release a lower priced iPhone to maintain growth.
Huberty, in a note to investors on Friday, said that innovation remains a "top priority" at Apple. That's why she expects Apple to expand the iPhone lineup, and also to introduce new services that can "unlock significant value" and drive device sales.
She noted that demand for the iPhone 4, Apple's current low-end handset offering, was surprisingly strong during the December quarter. With a gross margin of 40 percent and a one-third cannibalization rate, she believes a so-called "iPhone mini" would drive incremental revenue and gross profit.
"The company's approach to product decisions and innovation has not changed in the past several years despite the CEO transition," Huberty wrote. "Making great products remains Apple's core strategy and the company is as confident as ever about the future pipeline of new products and services."
And with Apple's cash balance $40 billion higher than it was in March of 2012, Huberty believes the company will likely return more cash to shareholders. She believes the iPhone maker could match the S&P 500 IT sector's average free cash flow payout of 68 percent.
At that rate, Apple could return $28 billion to shareholders in fiscal year 2013, which would imply a 6 percent total yield on the company's dividend. That would be a major increase over Apple's current $2.65 quarterly dividend, which carries a 2.3 percent yield.
To pay out that higher dividend, Apple could borrow cash. She noted that the amount of Apple's cash overseas has limited the company's flexibility, but this could be addressed by raising low-interest debt.
Morgan Stanley has maintained its "overweight" rating for AAPL stock with a price target of $630.