EU again points finger at Apple over warranty rights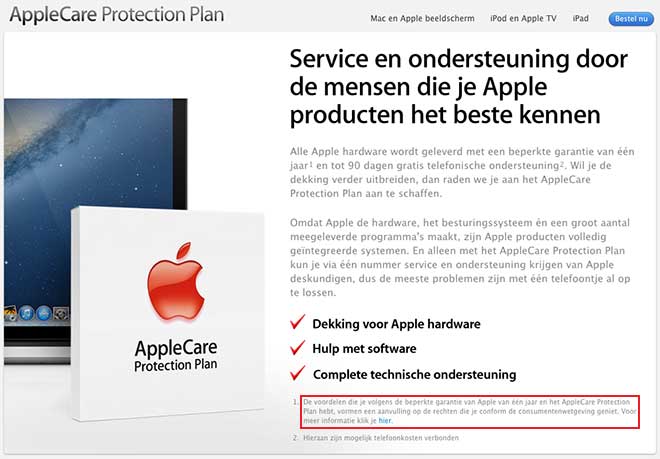 AppleInsider is supported by its audience and may earn commission as an Amazon Associate and affiliate partner on qualifying purchases. These affiliate partnerships do not influence our editorial content.
The European Union's Justice Commissioner singled out Apple on Tuesday as an example of poor enforcement of consumer rules, saying that E.U. nations need to more forcefully take the iPhone maker to task regarding its responsibilities with regard to warranties.
Belgian Online Apple Store's AppleCare webpage with footnote link to EU warranty rights (in red).
Speaking on Tuesday, EU Justice Commissioner Viviane Reding called current EU enforcement "very diversified and inconsistent at a national level." Dow Jones Business News quoted Reding as saying that the current consumer protection enforcement environment is "simply not good enough," with Apple allegedly failing to properly inform consumers about their warranty rights "in at least 21 EU Member States."
Under EU law, consumers are entitled to a two-year warranty, but Apple prominently advertises that its products come with a one-year manufacturer warranty. Reding has previously charged that Apple filed to properly inform EU consumers of their automatic and free-of-cost entitlement to a minimum two-year guarantee.
Addressing the issue most recently, Reding said that lawsuits have been filed against Apple by consumer associations in Belgium, Luxembourg, Portugal, and Germany. The Italian Antitrust Authority late last year fined Apple €900,000 over its product warranty policies.
According to Reding, the case is indicative of a need for the European Commission to occasionally take a more prominent role in monitoring and coordinating consumer protection laws. Reding suggested that the Commission could draw attention to recurring problems across the EU, possibly by publicizing tools such as online price comparisons and consumer reviews.