Gmail app update tightens Google's iOS ecosystem with support for Chrome, Maps, YouTube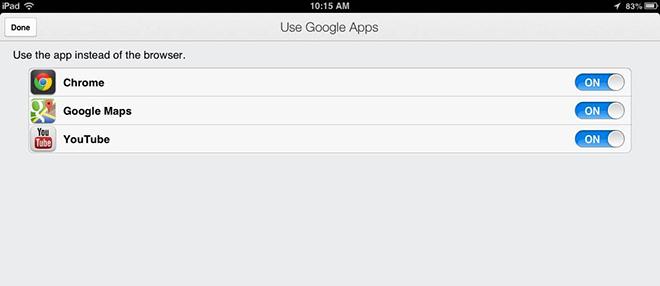 AppleInsider may earn an affiliate commission on purchases made through links on our site.
In a move that will only widen its foothold within Apple's iOS, Google on Monday rolled out an update to its Gmail app, one that ties together Google-provided apps and services on Apple's platform more so than ever before.
Version 2.2.7182 of Google's Gmail app for iOS contains a number of minor tweaks as well, but the major development in Monday's release is Google's tying together of its assorted iOS services. The Gmail app will now open YouTube, Google Maps, and web links in Google's YouTube, Maps, and Chrome apps if a user has those apps installed.
Users can, if they choose to, turn off this feature, but it serves to unify Google's services throughout iOS, effectively creating an ecosystem within Apple's ecosystem and ensuring the interoperability of Google services on the platform. The move circumvents some Apple regulations, namely the inability of third-party developers to have their apps set as the default handlers for certain tasks throughout iOS. That limitation hasn't kept Google's offerings from becoming popular, but the search giant no doubt would like to remove all barriers between its apps.
From YouTube to Gmail to Chrome, Google has continually pushed to grow mindshare for its services on iOS, in many cases developing more elegant apps for iOS than for its own Android platform. Many of those apps have debuted to immense popularity: Google Maps and YouTube among the App Store's top 25 downloaded apps of all time only months after their debut.
Similarly, Google's Chrome browser debuted to much interest, hitting the top spot among free iOS apps within 12 hours of its initial release. The inability to set Chrome as a default, though — along with Apple's restrictions on browser capabilities — limited Chrome's appeal after its debut, though it is the most popular non-Safari app on Apple's platform.
In August of last year, Google updated its Google+ app for iOS to open web links in its Chrome browser, and the Gmail update would appear to be a continuation of that trend. With the new update, Google has a video service, location service, social network, email service, and browser all linked together and likely to grow in interoperability.
The Gmail app for iOS is available as a free download from the App Store. The 12.1MB download is compatible with iPhones, iPod touches, and iPads running iOS 5.0 or later.