Amazon reportedly developing smartphone with glasses-free 'holographic' 3D display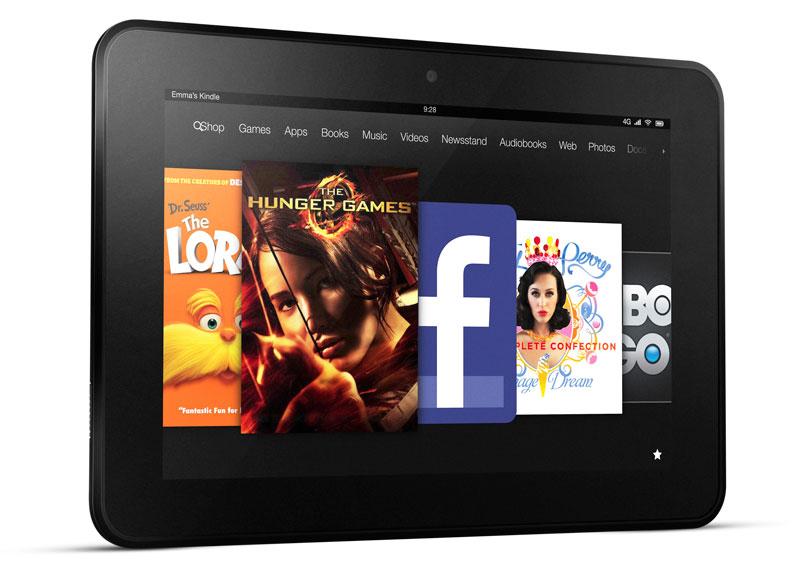 Online retailer Amazon is said to be working on a "wide-ranging lineup" of new devices, including a smartphone with a display capable of producing 3D images without the need for special glasses.
Amazon's apparent plans to push even further into the hardware space were revealed on Thursday by The Wall Street Journal, which cited unnamed people familiar with the company's plans. The retailer's rumored 3D-capable smartphone would "use retina-tracking technology" to produce images that appear to "float above the screen like a hologram," author Greg Bensinger wrote.
Amazon's Kindle Fire HD tablet debuted late last year..
The advanced device would apparently allow users to control it by just using their eyes. The three-dimensional image would apparently be visible from all angles — an improvement from Nintendo's 3DS gaming console, which can only be seen in 3D without glasses from a specific vantage point.
The project is said to be in development at Amazon's "Lab126" facility, which is located in Apple's hometown of Cupertino, Calif. Beyond the 3D smartphone, Amazon is also reportedly working on a set-top box that could compete with the Apple TV.
There's no indication that any of the devices may see the light of day outside of Amazon's top-secret labs. Rumors of an Amazon-built smartphone have persisted for years, though Thursday's claim of an alleged glasses-free 3D display is a new detail.
Amazon already has a major presence in the tablet market, where its Kindle Fire competes directly with Apple's iPad. The online retailer — known for its low-margin, high-volume business strategy — significantly undercuts Apple's iPad lineup, with an entry-level Kindle Fire priced at $159.