Apple Maps 3D Flyover support comes to Paris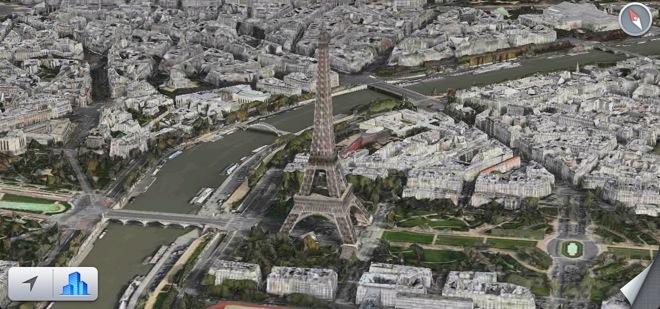 AppleInsider is supported by its audience and may earn commission as an Amazon Associate and affiliate partner on qualifying purchases. These affiliate partnerships do not influence our editorial content.
Apple continues to gradually expand the number of cities that support its 3D Flyover feature in iOS Maps, with Paris being the latest addition.
The update to Flyover in Apple's proprietary Maps application, which was first noticed by iGeneration, also extends beyond Paris to surrounding areas, including Versailles, Aulnay-sous-Bois, L'Hay-les-Roses, and even Disneyland. It's unknown whether any other cities were updated alongside Paris.
The new 3D mapping option in Paris comes about two months after Flyover rolled out to 15 new ctiies around the world. Flyover was introduced in 2012, when Apple replaced Google Maps with its own in-house solution.
Flyover allows users to view cities and buildings rendered in 3D. The interactive maps combine overhead images with three-dimensional geometry, allowing users to view major cities in new and unique ways.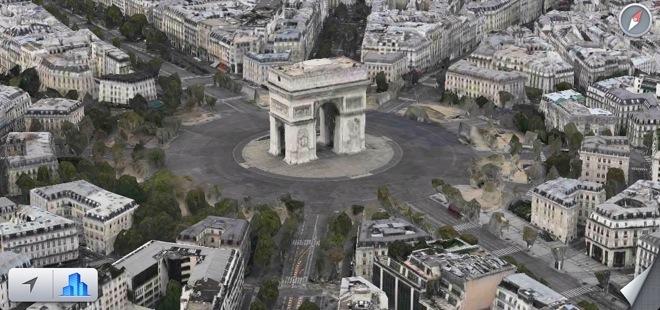 Apple has also been continually hiring new personnel in an effort to improve Flyover and its iOS Maps application overall. With the launch of Apple Maps last year, Flyover in particular was plagued with distorted imagery that gave inaccurate renderings of landmarks such as the Hoover Dam and Brooklyn Bridge.
Updates to Maps Flyover data has been gradual but slow since iOS Maps debuted last September, as evidenced by the fact that it took more than seven months for Flyover support to come to Paris — one of the most famous and most visited cities in the world.