As medicine goes digital, Apple's iPad is top choice among doctors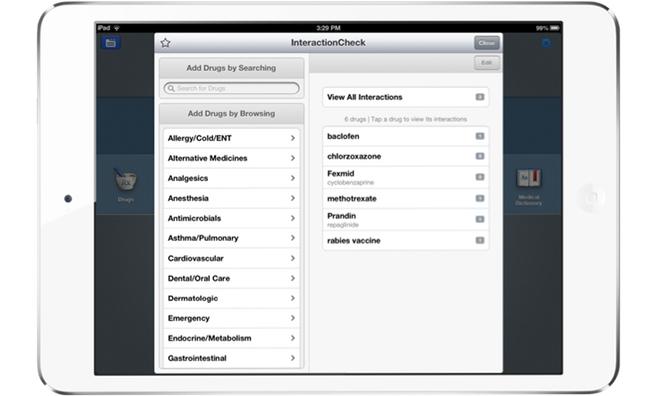 As physician practices and hospitals are increasingly required to bring their operations into the present with digitized records, Apple's iPad is the device of choice when it comes to doctors interacting with health records, a new study shows.
A mockup of the Epocrates application on Apple's new iPad mini. Source: Epocrates.
Doctors and hospitals are hungry for apps that take full advantage of the capabilities of mobile devices like the iPad, according to data from Black Book Rankings, a healthcare IT analysis firm. This is becoming more important due to impending regulations stemming from the Affordable Care Act, requiring physicians and hospitals to begin storing their patient records electronically.
As the healthcare industry moves to adopt digital technologies, Apple's iPad and iPhone remain popular options for access to records on the go. Sixty-eight percent of surveyed physicians and practices chose the iPhone over Android and other smartphones. Fifty-nine percent of physicians and practices said they were integrating tablets into their operations, and the iPad was the most popular option in that category.
Physicians, Black Book's survey found, are looking for a tool that allows them to have easy access to electronic health records (EHRs) and other medical information without having to carry around a laptop or walk to a desktop station. Just over half (51 percent) of office-based physicians said they use a mobile device to perform independent medical reference and internet research. Doctors, though, are aware of the possibilities inherent in mobile devices: 83 percent said they would immediately use mobile EHR functions to update charts, check labs, and order medications if their EHR vendor provided such functions.
Part of the problem lies in the lack of digital health record functions that are native to the touchscreen interfaces that typify mobile devices. Many EHR systems are virtualized versions of the systems seen on traditional computing platforms, meaning it is much harder for physicians to quickly accomplish tasks.
Eighty-three percent of surveyed physicians said they wanted customized, simplified versions of their patients' charts when using a mobile app, not just a replica of what is presented on a full-sized laptop. Seventy-one percent of physicians said apps should be optimized for touchscreen capabilities.
Vendors supplying EHR systems have indicated that they're ready to move to the iPad in order to address physicians' concerns: 122 vendors told Black Book that they're preparing to roll out native iPad versions of their products, while another 135 claimed such a product was on their near strategic horizons.
Smartphones are also popular among physicians, especially primary care and internal medicine doctors. Among those, 89 percent of them use smartphones to primarily communicate with staff. The small screens on smartphones, though, were a hindrance to physicians, who must navigate patient charts and perform other functions that require more screen real estate.