$399 low-end iPhone predicted to grow Apple's user base without affecting margins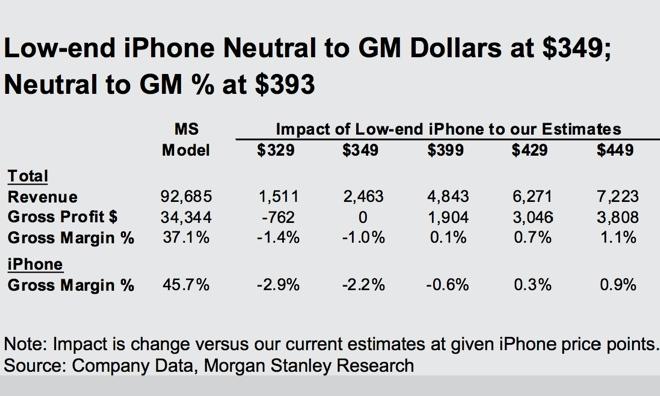 If Apple were to offer a new unlocked iPhone priced at $399 without a service contract subsidy, the company would be able to grow its install base without deteriorating its gross margins, one analyst has projected.
Estimates published on Monday by Katy Huberty of Morgan Stanley peg the cost to Apple of a 16-gigabyte low-end iPhone at $244, including bill of materials, manufacturing, warranty, and other factors. Her assumptions are based partly on checks within Apple's overseas supply chain.
Based on her estimates, a low-end iPhone priced at $349 would be neutral to Apple's total gross margin dollars. And if Apple were to reach $393, a low-cost iPhone would be neutral to its current gross margin percentage.Katy Huberty of Morgan Stanley believes a $399 low-cost iPhone could actually result in a slight increase to Apple's overall margins, and would signal the end of the iPhone 4 and iPhone 4S.
Huberty's analysis is meant to ease concerns among investors who believe that a low-cost iPhone could drastically reduce Apple's gross margins. Instead, she has argued, such a product could in fact increase Apple's margins slightly if it were priced at $399.
She expects that Apple will launch a low-end iPhone later this year, and in the process will likely discontinue the legacy iPhone 4S and iPhone 4 models. Her prediction is based on the assumption that Apple will borrow the same strategy Apple employed in releasing the iPad mini in late 2012 for $329, or $170 less than the latest-generation full-size iPad.

"We now see the most likely starting price for the low-end iPhone at $399, as supply chain components appear similar to the current iPhone lineup and the low-end iPhone would replace the iPhone 4/4S sold in the $450-$549 range before recent discounts," Huberty wrote.
"At this price point, even with a 50 percent low-end volume mix, the low-end iPhone is 5 percent accretive (to) total company revenue, 6 percent accretive to gross profit dollars, and 10 basis points accretive to ross margin versus our current (second half of calendar 2013) estimates."
Based on her models, the $399 16-gigabyte low-cost iPhone would carry a gross margin of 35.7 percent — still well below Apple's premium iPhone lineup, but in line with other products sold by the company. Margins would increase to 42.3 percent for a $499 32-gigabyte model, and 44.9 percent for a $599 64-gigabyte option.
By the end of 2013, she believes Apple's lineup will include a high-end "iPhone 5S," the low-cost iPhone, and an 8-gigabyte iPhone 5 model that would be sold for $549 unlocked and without a service contract. She believes the unlocked "5S" prices would remain as they are for the current iPhone 5 lineup: $649 for 16 gigabytes, $749 for 32 gigabytes, and $849 for 64 gigabytes.
Last month, after a visit with tech suppliers in Asia, Huberty signaled to investors that she believes Apple will build multiple new iPhones in the June-July timeframe. It's expected that Apple will unveil a successor to the iPhone 5, as well as potentially expanding the iPhone lineup with a new low-end model, this fall.