Android's consumer strength hasn't translated to enterprise, where Apple still dominates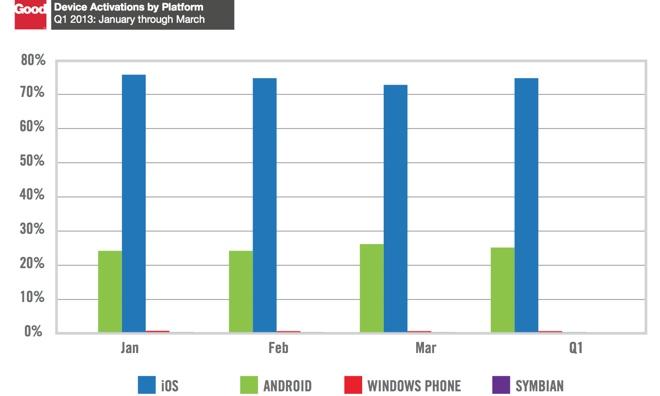 While Google's Android is the most popular smartphone platform among consumers, Apple's iOS remains the default choice for the majority of business customers activating phones and tablets, according to the latest data from Good Technology.
In the first quarter of calendar 2013, iOS accounted for 75 percent of total device activations among enterprise users, Good Technology's latest Mobility Index Report revealed on Wednesday. The remaining 25 percent were Android devices, while other platforms took less than 1 percent.
While Apple's iOS remains dominant in the enterprise, Android has seen a slight gain among business customers over the last year. From the same period in 2012, iOS activation share fell five points this year, while Android was up 5 points.
However, much of that growth has come from tablets, where Android saw its biggest gains, according to Good. Android tablet activations almost doubled year over year in the first quarter of calendar 2013, chipping away at the dominance of Apple's iPad.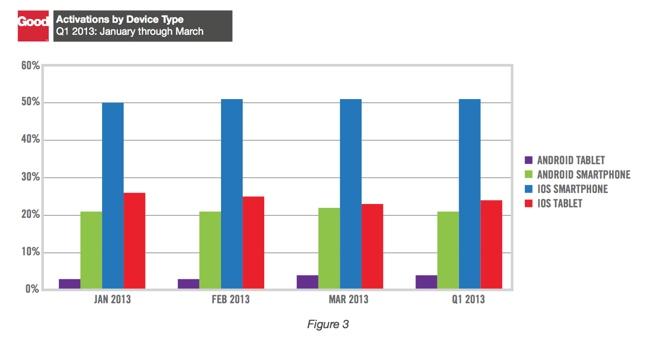 Tablets are now so popular among business users that they accounted for 27 percent of total device activations in the workplace in the first quarter.
While tablets are on the rise, smartphones are still the most popular choice. In that segment, Android smartphone activations were flat when compared to the fourth quarter of 2012, the report noted.
When breaking down the results on a device-by-device basis, Apple is the clear winner, accounting for the five most popular choices: iPhone 5, iPhone 4S, latest-generation iPads, and iPad 2. A chart included in the report suggests the iPhone 3GS is the fifth-most popular option, but it's likely meant to represent the iPhone 4, as Apple no longer sells the iPhone 3GS.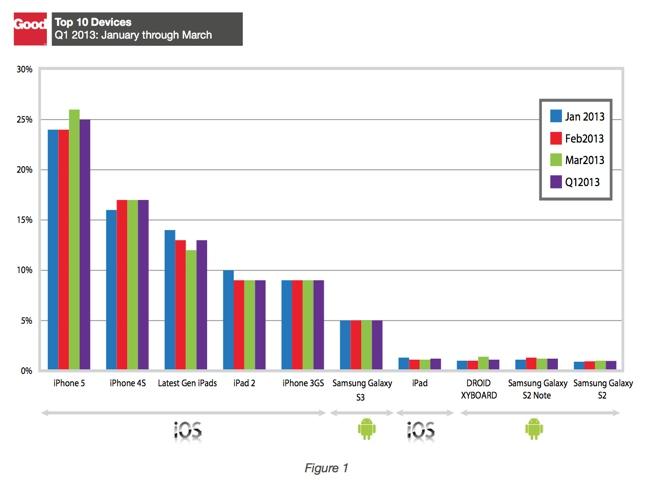 The most popular Android device in the enterprise is Samsung's Galaxy S3, which came in sixth among device activations. Apple's first-generation iPad took seventh, rounding out its presence in the top 10.
Good Technology's data was collected from more than 5,000 customers who work for "bellwether companies" in the financial services, healthcare, manufacturing, energy and utilities, legal, government, and high-tech industries.