PC shipments dropped 11% worldwide in Q2, Apple's US growth slows 4.3% [u]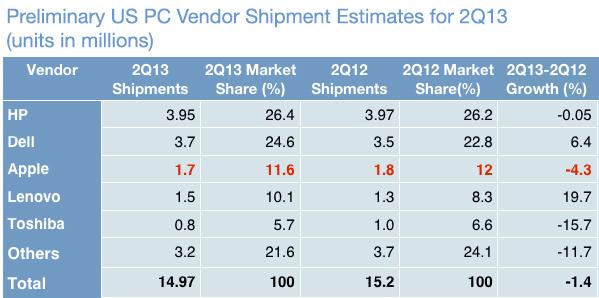 AppleInsider is supported by its audience and may earn commission as an Amazon Associate and affiliate partner on qualifying purchases. These affiliate partnerships do not influence our editorial content.
In its latest quarterly report, market research firm Gartner said PC shipments slid 11 percent worldwide for the second quarter of 2013, continuing the longest decline in the market's history.
Update: This article has been updated with estimates from research firm IDC.
During the April to June period, worldwide PC shipments dropped to 76 million units from the same period last year, a decline of 10.9 percent and the fifth consecutive quarter of decline.
According to the firm's statistics, all regions showed decline year-over-year, with the Asia/Pacific region seeing five consecutive negative quarters, while the Europe/Middle East/Asia (EMEA) market tallied its second quarter double-digit fall.
The U.S. market fared better in quarter two than all markets combined, with a decline of only 1.4 percent year-over-year on shipments of 15 million units. That number was good enough for quarter-on-quarter growth of 8.5 percent. Gartner points out that this quarter's decline was less than the past seven quarters.
"Our preliminary results indicate that this reduced market decline was attributed to solid growth in the professional market," Kitagawa said. "Three of the major professional PC suppliers, HP, Dell and Lenovo, all registered better than U.S. average growth rate. The end of Windows XP support potentially drove the remaining PC refresh in the U.S. professional market."
HP managed to hang on to first place with 26.4 percent of the market. The company shipped almost 4 million computers for a slight decline of 0.05 percent year-over-year. Dell was only one of two top-five manufacturers to show positive growth for the quarter, with a 6.4 percent bump on shipments of 3.7 million units. The company now owns 24.6 percent of the U.S. market.
Apple came in a distant third with 11.6 percent of the market, shipping 1.7 million Macs for the quarter to be down 4.3 percent compared to the same quarter in 2012. iPads were not counted as PCs in Gartner's report.
Lenovo saw the largest growth at a whopping 19.7 percent, lifting the company into fourth place overall with a 10.1 percent share of the market.
The 11 percent worldwide decline had Lenovo out in front by a small margin, with its 12.7 million units shipped reflecting a contraction of 0.6 percent compared to the year previous. HP followed in a close second with nearly 9 million units shipped for a decline of 4.8 percent.
"We are seeing the PC market reduction directly tied to the shrinking installed base of PCs, as inexpensive tablets displace the low-end machines used primarily for consumption in mature and developed markets," said prniciap Gartner analyst Mikako Kitagawa. "In emerging markets, inexpensive tablets have become the first computing device for many people, who at best are deferring the purchase of a PC. This is also accounting for the collapse of the mini notebook market."
Research firm IDC has also released its own estimates for the U.S. PC market, and they are a bit different than Gartner's. HP and Dell are still in the lead, though IDC sees HP's numbers dropping substantially year-over-year with a negative 4.3 percent growth rate.
IDC disagrees somewhat in regard to Apple, and found the company saw growth decline only half a percentage point to take 11.5 percent of the market with 1.8 million units shipped.
Finally instead Acer was found to finish in fifth place for the second quarter after a huge 19.5 percent shrinkage in growth, with 900 thousand units shipped.