Apple TV to get automatic "touch to configure" setup via Bluetooth 4.0, iOS 7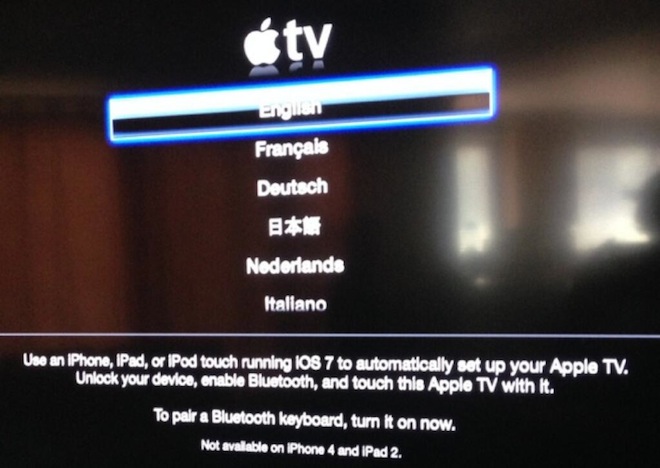 Apple appears to be using a novel device setup method to ease initial configuration of Apple TV under iOS 7, using an NFC-like touch without NFC hardware.
"Use an iPhone, iPad, or iPod touch running iOS 7 to automatically set up your Apple TV. Unlock your device, enable Bluetooth, and touch this Apple TV with it."
The screen notes "not available on iPhone 4 and iPad 2," indicating that the feature makes use of Bluetooth 4.0, first introduced on the iPhone 4S. The technology also plays a central role in Apple's new iBeacons feature.
@BenedictEvans seriously, cool - sends BT pulse to the AppleTV with accelerometer bump timestamp, iOS device and AppleTV match TS via cloud.

— Nat Brown (@natbro) July 29, 2013
The new configuration replaces Apple TV's existing setup procedure that requires navigation of onscreen menus via an IR remote, typically including the entry of the WIFi network password, and the network name if it's hidden. The device also needs to be added to iTunes Home Sharing.
Once configured, iOS users can download Apple's free Remote app to turn their mobile device into a sophisticated, multitouch remote control (shown above), but this requires a configured Apple TV to use.
The new setup method also appears to explain why Apple hasn't bought into NFC, the technology Google introduced for Android 2.3 Gingerbread in late 2010 and at the core of Google Wallet (introduced mid 2011) and the Android Beam sharing feature introduced in Android 4.0 Ice Cream Sandwich at the end of 2011.
While industry pundits have long questioned why Apple hasn't added NFC to its iOS devices and cited it as a competitive advantage of Android products, Google has dropped the technology from its own revamped Nexus 7 device, and HTC doesn't support it on its flagship One phone either.