Apple takes 53% of smartphone profits, Samsung at 50%, remainder lose money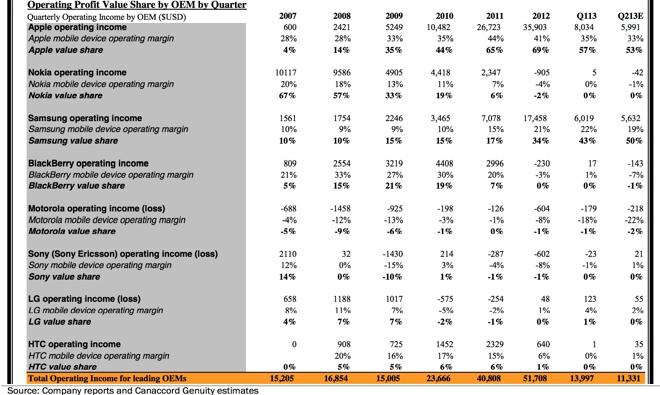 Apple remains the most profitable company in the smartphone industry, though its lead over rival Samsung is shrinking, as just 3 percentage points separated the two companies during the second quarter of calendar 2013.
The latest data from Cannacord analyst Michael Walkley shows that Apple took 53 percent of smartphone profits in the second quarter, down from 57 percent in the first quarter, and 69 percent in 2012.
Samsung, meanwhile, has seen its value share steadily grow, from 34 percent in 2012, to 43 percent in the first quarter of 2013. Now, in the second quarter of the year, Samsung took 50 percent of the smartphone industry profits, according to Walkley's research.
As has been the case in the past, Apple and Samsung are still estimated to account for more than 100 percent of the smartphone industry's profits. That's because all other companies are either break-even, or they experienced losses.
Nokia, HTC, LG and Sony Ericsson all saw revenue share of 0 percent in the second quarter, Walkley found. That was still better than BlackBerry, which has a negative 1 percent share, or Motorola, with negative 2 percent.
The figures are based on published company reports, as well as estimated made by Canaccord Genuity. Walkley's report is also the latest data to refute a recent claim that Samsung Electronics had dethroned Apple, Inc., in mobile profits.
As noted by AppleInsider last week, Samsung's IT & Mobile division brought in $5.64 billion in operating profit last quarter, which amounts to just 61 percent of Apple's total earnings.
Estimates such as Walkley's are necessary for comparison because Samsung does not detail exactly how many smartphones it sold in any given quarter. In fact, the company's "handset" business lumps in tablet and PC sales.
In contrast, the Canaccord Genuity figures do not include other mobile devices, such as tablets. Apple Chief Executive Tim Cook noted in his company's most recent quarterly earnings report that the latest Web browsing share data shows that the iPad accounts for 84 percent of tablet traffic.
"If there are other tablets being sold," Cook said, "I don't know what they're being used for."