Survey finds China's 'sweet spot' for Apple 'iPhone 5C' priced at $486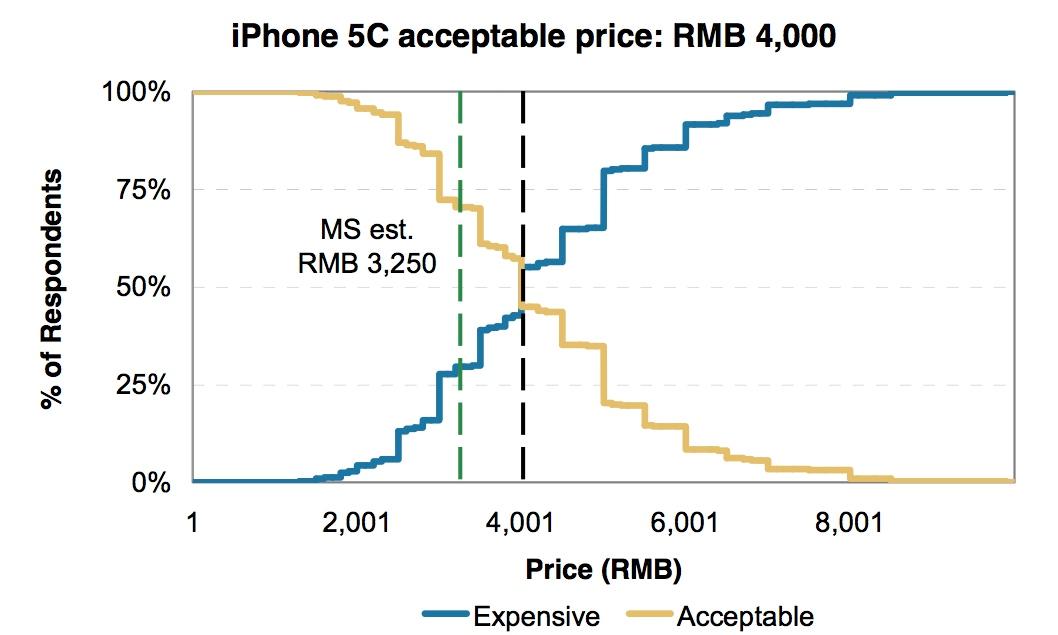 A new survey of smartphone buyers in China has found that the pricing "sweet spot" for Apple's rumored "iPhone 5C" is $486 — a price higher than the analyst responsible for the poll expected.
Source: AlphaWise & Morgan Stanley Research
Katy Huberty of Morgan Stanley revealed the results of the AphaWise survey on Tuesday, based on 2,000 Chinese handset users in the nation's largest cities. The data shows that customers in "tier 1-2 cities" are increasingly planning to purchase more expensive smartphone models, signaling a benefit to both Apple and Samsung.
But if Apple were to introduce a new, lower priced iPhone model, as the company is expected to do, the survey found that it could gain 13 points of smartphone purchase intent share in China. That would push Apple from a 23 percent share to 36 percent among future smartphone buyers, potentially pushing it beyond Samsung which is seen as falling to a 30 percent share in that scenario.
Respondents to the survey indicated on average that they are willing to pay $486 U.S., or 4,000 RMB, for a so-called "iPhone 5C" that is unlocked and contract-free. That number was higher than what Chinese customers are willing to pay for a Samsung Galaxy S4 Mini (2,600-3,800 RMB) or HTC One Mini (2,000-3,000 RMB).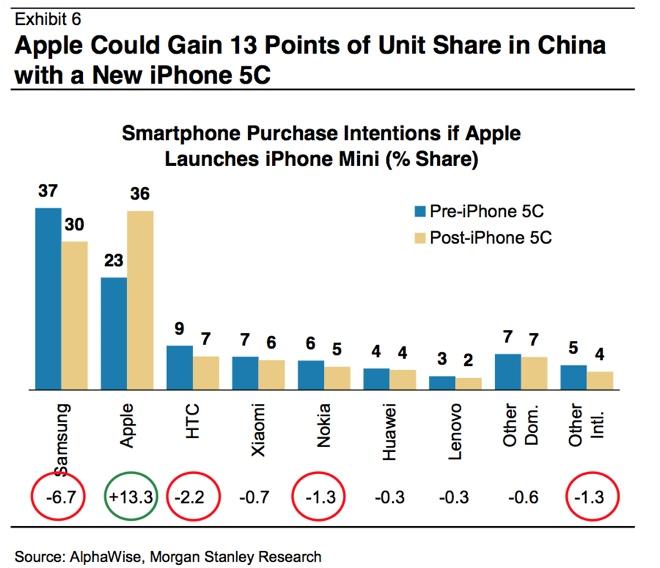 The $486 that Chinese customers would reportedly pay for an "iPhone 5C" comes in 22 percent higher than Huberty's estimated price of $399 for the anticipated smartphone. She believes this signals that Apple could gain even more market share than the survey indicated, or that the company could obtain even higher margins than expected on the device.
The poll also found that an "iPhone 5C" wouldn't even need to have high-speed 4G LTE to satisfy most potential customers. Among the respondents, 68 percent said they would be fine with a 3G model, while just 18 percent said they were interested in an "iPhone 5C' with 4G LTE.
Apple is expected to introduce a new iPhone model with a plastic back, using many of the same internal components as the iPhone 5, at a media event on Sept. 10. That device, rumored to be called the "iPhone 5C," is presumed to be joined by a new flagship model, referred to by the media as an "iPhone 5S."