Popularity of Apple's iPhone provides a financial lift for China Telecom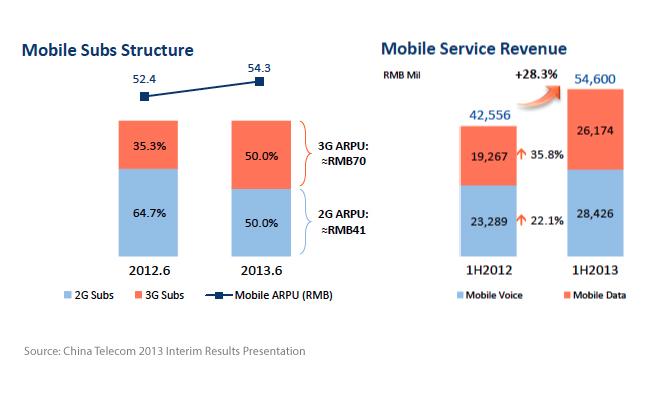 China Telecom's mobile revenues jumped by 28.3 percent in the first half of 2013, thanks in large part to Apple's iPhone attracting more 3G customers to the network.
The Beijing-based company, the smallest of China's three state-owned mobile carriers, posted the highest mobile revenue growth rate in the industry during the first six months of 2013, according to the interim financial statement released today.
China Telecom added 18.3 million 3G subscribers for the six month period ending in June, pushing the number of customers who subscribe to revenue-generating mobile data plans to 87.33 million, or 50 percent of the company's total mobile subscriber base. Revenue from mobile data increased by 39 percent to 26.2 billion yuan ($4.3 billion).
The average monthly data usage of 3G subscrbers increased by 51 percent to from the same period last year, the company's first with the iPhone. iPhone users are known to consume significantly more mobile data than users of other smartphones.
China Telecom Chairman and CEO Wang Xiaochu said that the company would continue focusing on expansion of 3G services, despite "uncertainties in domestic regulatory policies" surrounding disruptive mobile messaging apps like WeChat, which use a customer's mobile data connection to communicate. These apps steer users away from profitable carrier services like text messaging and voice calling.
The company also indicated plans to aggressively develop its LTE network, telling investors to expect a capital expenditure campaign to deploy TD & FDD LTE services, possibly paving the way for a future LTE iPhone in mainland China.
Overall, China Telecom — also the largest wireline and broadband service provider in the world — saw net profit increase by 16 percent to 10.2 billion yuan ($1.7 billion).