San Francisco Apple Store's iPhone 5s line wraps around the block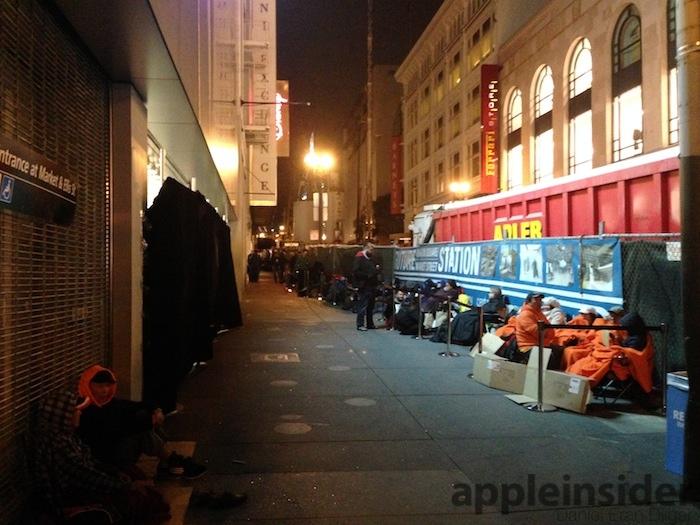 Three hours before the store is scheduled to open, a line of more that 150 hopeful iPhone buyers stretched down the street and around the block.
Some at the beginning of the line were huddled in blankets (above), having camped overnight for the device. New additions to the line joined every few minutes as the queue stretched down Powell Street and around the corner at O'Farrell, in the otherwise quiet Union Square shopping district.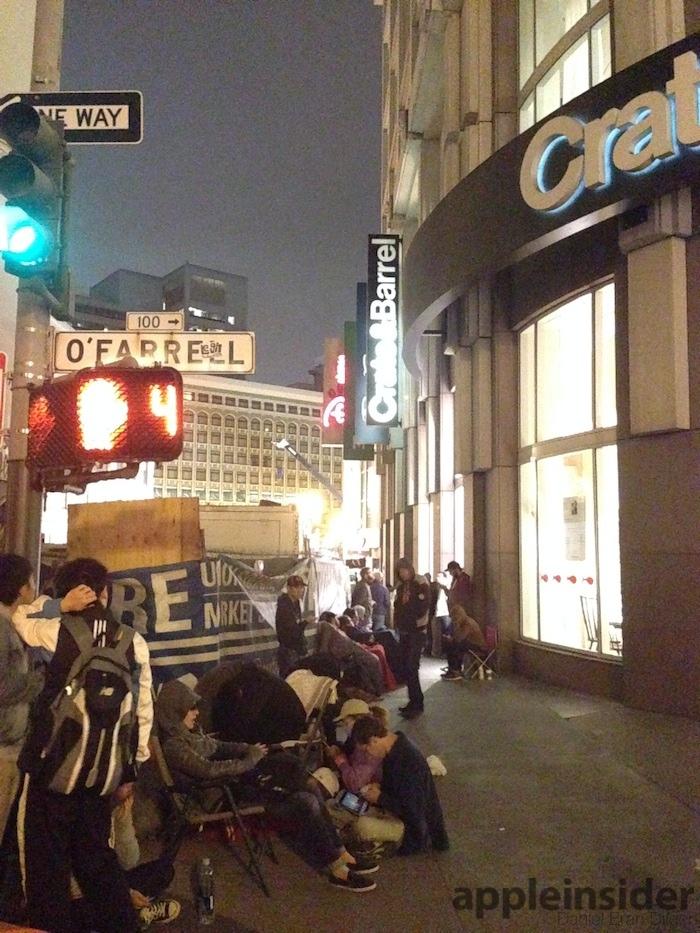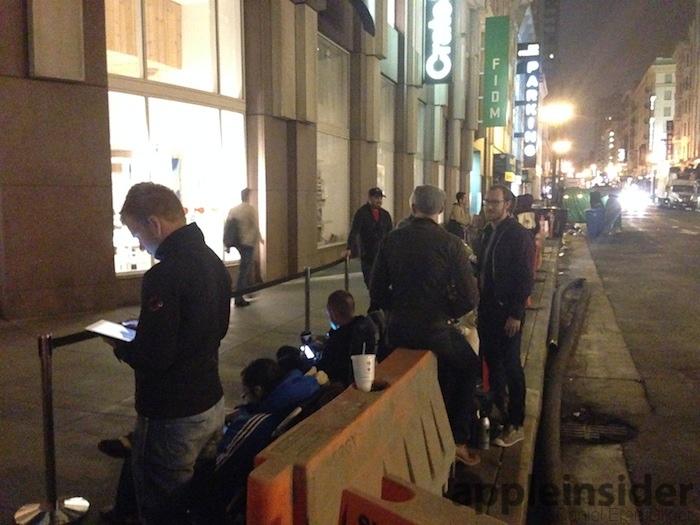 Similarly long lines have been reported in China, which was for the first time ever among the initial countries to participate in the first day of Apple's launch, as well as London, Los Angeles, New York and other cities.
One reason the new iPhone is still generating lines at its seventh annual launch is that Apple's supply of the iPhone 5s, particularly in the new gold finish, is reported to be in limited supply, making it difficult (but not impossible, below) to obtain.
Apple has instituted purchasing limits for line holders, restricting iPhone 5c models to ten units per person, while the more scarce iPhone 5s is limited to two devices.
In part, this scarcity is due to production challenges of meeting demand for the new Touch ID sensor. Apple faces the enormous task of building millions of the new devices to meet the anticipated demand over its initial launch weekend, products which must be flawless from day one.
That operational circus act comes just days after the mega-launch of iOS 7, which caused major ripples in the Internet as Apple rolled out the biggest, fastest mobile device upgrade ever.
This is the first time Apple (or anyone) has built such a Touch ID sensor, which improves upon previous, unsuccessful attempts to incorporate practical fingerprint-based authentication into a mobile device.
Apple's design uses a new sapphire lens element to protect the fragile capacitive sensor, which industry expert Geppy Parziale had earlier predicted would not stand up to everyday use.
"Constant usage of the sensor starts to destroy the capacitors and over time, the fingerprint sensor stops to work," Parziale gravely warned early last month before Apple had demonstrated how its design worked.
Thousands of fans of Apple's product design are ready to wait in line for the new device, expecting that the company's new product works as advertised. Initial product reviews have raved that it does.