Apple profiles free iWork, iLife apps with iOS 7-style icons, depicts free Garage Band with IAP [u]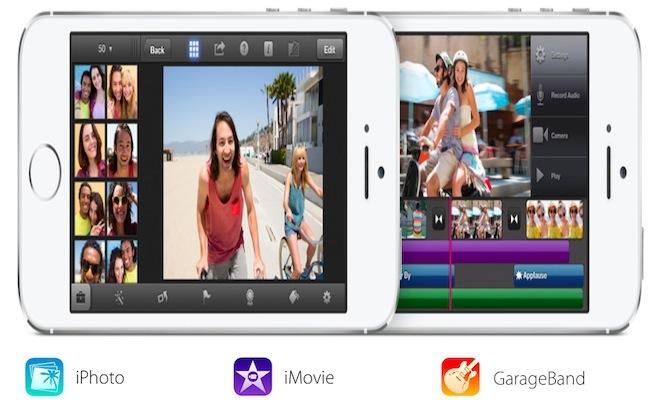 AppleInsider is supported by its audience and may earn commission as an Amazon Associate and affiliate partner on qualifying purchases. These affiliate partnerships do not influence our editorial content.
At the release of iPhone 5c and 5s, Apple announced it would begin throwing in free copies of its Pages, Numbers, Keynote, iPhoto and iMovie apps. It now says (in text that has since been removed from its website) it will add a free copy of Garage Band, too, with In App Purchases of instruments and sounds.
Apple's Built-in Apps page for iPhone 5s highlighting "Apple apps on the App Store. Free of charge. Full of possibilities," was changed today to depict iPhoto, iMovie, Garage Band, Keynote, Pages and Numbers with new iOS 7-style icons.
As this article when to press, Apple removed mention of Garage Band (appearing in full below) among the free apps. The screen cap above depicts that the images had been swapped out before the page was fully updated. [Update: the icon images have since been changed back to their original iOS 6 appearance.]

A report by Mac Rumors pointed to text that has since been removed from the site that originally stated, "GarageBand is free on the App Store for all iOS 7 compatible devices; additional GarageBand instruments and sounds are available with an in-app purchase."
Last week, Apple added the revamped iOS 7-style icons for the apps in an iCloud settings page. However, neither the apps nor their icons have been updated in the App Store, suggesting that a revamp might come with the Apple Event scheduled for Tuesday October 22.
In a footnote, Apple currently states that "iPhoto, iMovie, Keynote, Pages, and Numbers are free on the App Store for qualifying iOS 7 compatible devices activated on or after September 1, 2013. See www.apple.com/ios/whats-new/ for iOS 7 compatible devices."
The slip appears to indicate that Apple plans to take Garage Band free, but charge an IAP for some licensed content. Apple also presents Pages, Keynote and Numbers, with new iOS 7-style app icons but no apparent update in their features or user interface, which still reflects iOS 6-style textures and buttons.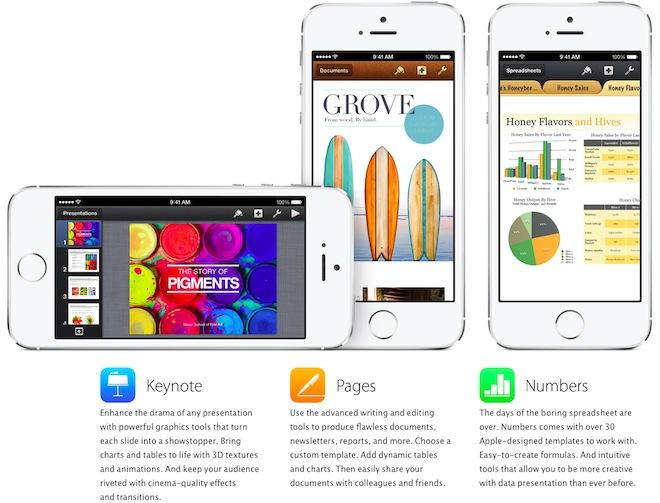 Apple is also expected to update its desktop versions of iLife and iWork apps, which haven't seen a major version update in some time. Among the features that Apple is likely to include in a future Mac update for iLife is support for new formats captured by iPhone 5s, including SloMo editing and Burst Capture imports.