Amazon taunts Apple's new iPads, advertises smaller Kindle Fire HDX as 'lighter than Air'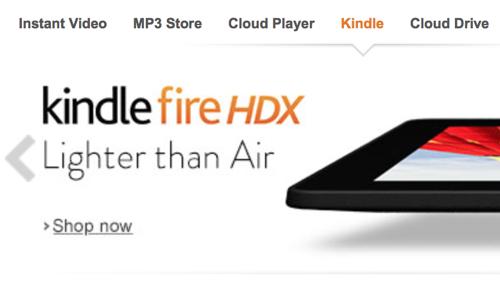 In response to Apple's new iPads, Amazon took a direct shot at its competitor on the front page of its website Wednesday, saying the Kindle Fire HDX is "lighter than Air" — Â even though the new Kindle achieves that weight with a smaller display.
The advertisement is a not-so-subtle jab at Apple's new iPad Air, which shaves nearly a half-pound off the weight of its predecessor to drop to just one pound.
While the Kindle Fire HDX weighs in at 0.82 pounds for the $379 Wi-Fi-only model, it achieves that weight with a screen size of just 8.9 inches. Apple's iPad Air, in contrast, has a larger 9.7-inch Retina display with more screen real estate.
Both devices are also unsurprisingly heavier than Apple's new iPad mini with Retina display, which sports a 7.9-inch screen. Apple's smallest tablet weighs 0.73 pounds in its Wi-Fi-only variety.
Amazon also offers a 7-inch version of its Kindle Fire HDX tablet. It too edges the Retina iPad mini in weight, at just 0.66 pounds, but also sports a screen size nearly a full inch smaller diagonally in the process.