Carl Icahn says he'll consider shareholder proxy vote if Apple rejects his buyback plan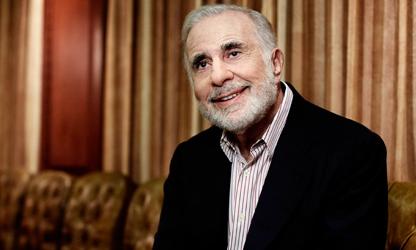 AppleInsider is supported by its audience and may earn commission as an Amazon Associate and affiliate partner on qualifying purchases. These affiliate partnerships do not influence our editorial content.
Appearing in a television interview Thursday afternoon, billionaire investor Carl Icahn said that he would consider, but will not commit to, a possible proxy vote to force Apple executives to buy back more of their own shares, if they don't agree to his proposal.
Icahn made it clear in an interview with CNBC that he isn't "going away," and plans to continue his efforts to persuade Apple executives to spend $150 billion on a share buyback. Icahn made a splash earlier Thursday when he published a letter he wrote to Apple Chief Executive Tim Cook encouraging him to consider issuing an immediate tender offer, borrowing money to buy back shares at a price of $525 from investors.
When asked whether he is planning to push for a proxy vote to drive his agenda, Icahn said he would consider it if his proposal is rejected."We'll test the waters and see if the shareholders want us to do it." - Carl Icahn on the prospect of a proxy vote.
"We'll test the waters and see if the shareholders want us to do it and want us to win," he said.
Icahn said he believes Cook is doing a good job as CEO, and shouldn't be replaced. He wouldn't say the same for the rest of the Apple Board of Directors, however.
The billionaire investor believes that a change may be necessary on the board, and he'd prefer to see someone with an investor's point of view providing input at the company. However, Icahn said he's not interested in such a role.
"I really don't want to spend the time to go on a board at this point," he said.
Icahn expects to hear from Cook after Apple reports its quarterly earnings next Monday. He said the two agreed to speak again after Apple's September earnings report when they met for dinner in New York late last month.I really don't want to spend the time to go on a board at this point." - Icahn
But Icahn stands by his belief that Apple has too much money in the bank, and that letting that money sit is a disservice to investors.
"It's ludicrous to say that they need $150 billion sitting in a bank somewhere in Europe to do innovation," he said.
Apple is currently in the process of spending $100 billion through 2015 on share buybacks, as well as dividend payouts. But Icahn believes Apple should increase its share buyback program and spend $150 billion on its share buyback, and he'd like to see that sum spent immediately.