Apple highlights 'Life on iPad' stories in new promotional webpage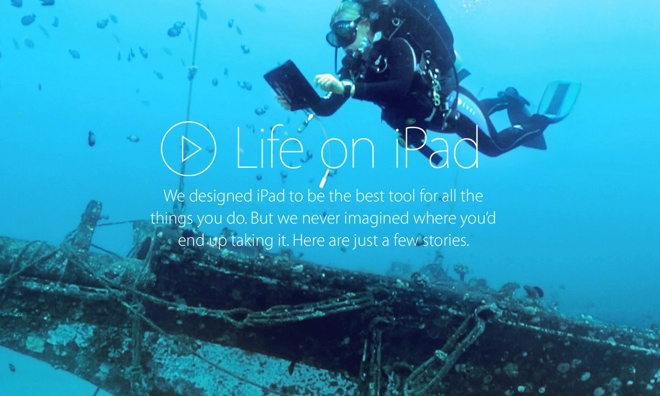 AppleInsider is supported by its audience and may earn commission as an Amazon Associate and affiliate partner on qualifying purchases. These affiliate partnerships do not influence our editorial content.
In time for the holiday season, Apple has launched a new page on its website dedicated to telling the stories of an eclectic gathering of athletes, doctors, dancers and more, who use the iPad in unique ways.
The new "Life on iPad" webpage features a total of six stories, with text and video describing the many ways customers use Apple's tablet. Clips from each story were first shown during the recent iPad event in October just before the iPad Air and iPad mini with Retina display were revealed onstage.
The large teaser image, which leads to what can be considered a highlight reel, reads:
We designed iPad to be the best tool for all the things you do. But we never imagined where you'd end up taking it. Here are just a few stories.
In all, six different companies and individuals are featured in the vignettes, complete with interviews explaining how the iPad helps in their everyday life.
First up is Siemens Energy-Wind Service, which supplies their technicians with iPads to help aid in maintenance and repair of massive windmills. Previously, workers would have binders and "over a thousand pages" of materials craned up to the worksite, but all that is replaced with Apple's tablet. In addition, the iPad allows for photo taking, correspondence and Internet access in remote locations.
In "Finding the extra edge," speedskater Bridie Farrell is shown using iOS app Dartfish Express to record and analyze her workout sessions. With the iPad's computational horsepower, Farrell and her training team can review video without having to carry around a backpack of gear.
Another story comes from Dr. Itaru Endo, Director of Digestive Surgery and Liver Transplantation at Yokohama City University, who developed an iPad app that displays interactive patient data during live surgeries. Through augmented reality, surgeons are better equipped in the operating room. The app also delivers real-time patient data to help doctors conduct safer procedures.
The remaining three stories include a wine maker, a Broadway dance choreographer and an endurance offroad race team.