90% of iPhone 5s models now in stock at Apple retail stores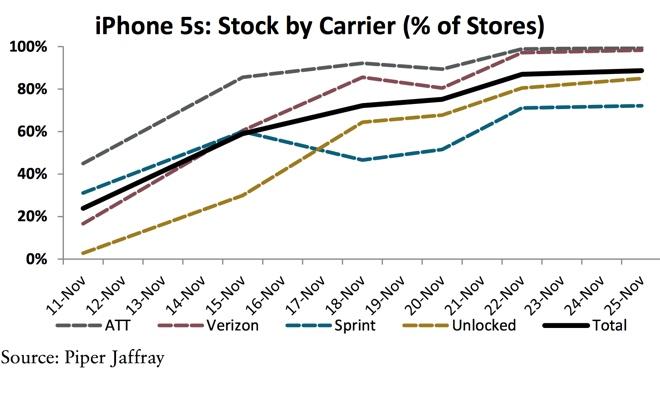 Supply of Apple's new flagship handset, the iPhone 5s, has nearly caught up with demand, as a new survey of the company's retail stores finds that 90 percent of models are available.
Availability of the iPhone 5s is even greater for models compatible with America's two largest carriers, AT&T and Sprint, according to data published Tuesday by Gene Munster of Piper Jaffray. He found that 99 percent of iPhone 5s AT&T SKUS are in stock at Apple stores, while 98 percent of Verizon models are fully available.
Together, AT&T and Verizon account for 75 percent of the U.S. wireless market, which means the vast majority of American customers can easily get their hands on the iPhone 5s model of their choice. Munster's poll did not include unlocked iPhone 5s models, which includes versions compatible with T-Mobile, America's fourth-largest wireless carrier.
The poll did include phones compatible with Sprint, the third-largest carrier, and showed that that 72 percent of Sprint iPhone 5s units were in stock. In all, 90 percent of iPhone 5s models were said to be in stock as of Nov. 25, which is down slightly from 95 percent availability of iPhone 5 models on the same date a year ago.

But when inventory levels are adjusted to compensate for carrier market share of phones, Munster said that availability of the iPhone 5s is actually a 0.8 percent improvement over the iPhone 5 release.
"We view the improvement in supply as an encouraging sign that Apple has begun to catch up to demand," Munster wrote in a note to investors. "We continue to believe that Apple will reach supply-demand equilibrium by early December."
The data from investment firm Piper Jaffray comes from bi-weekly checks of 60 U.S. Apple retail stores. It also shows that supply of the iPhone 5s has improved dramatically over the last two weeks, from just 31 percent on Nov. 11 to 90 percent on Nov. 25.