Review: Libratone Loop AirPlay speaker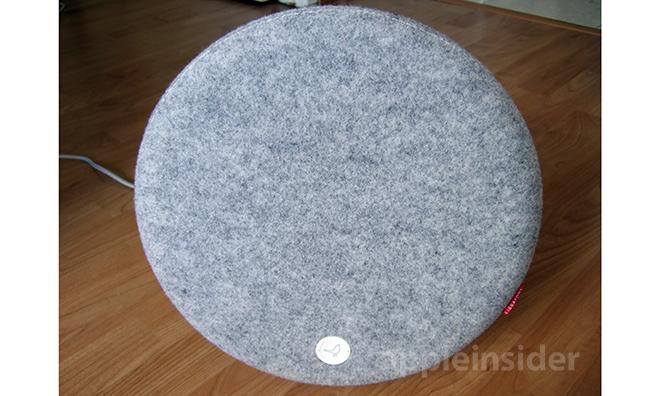 ---
AppleInsider may earn an affiliate commission on purchases made through links on our site.
Danish audio firm Libratone adds to its collection of high-end speakers with the Loop, a round and relatively slim unit that produces some of the best treble fidelity we've heard from a product its size.
With unique styling that is both figuratively and literally thinking outside the box, Loop is part art, part speaker. That is not to say performance is negatively impacted in the name of design. Quite the opposite, according to Libratone. The untraditional aesthetic is meant to squeeze high quality sound out of small-volume speaker cabinets.
Whether it be good design or good components, Loop does perform.
To address the $500 elephant in the room, Libratone's wares are not inexpensive. The cheapest speaker the company sells is a $400 portable AirPlay-enabled cylinder called Zipp, so named for the zipper on its interchangeable wool covers. Those cost $50.
At the top-end is Libratone's $1300 Lounge; an advanced soundbar with baked-in DSP and digitally controlled amplifier. It, too, is swathed in fine Italian wool.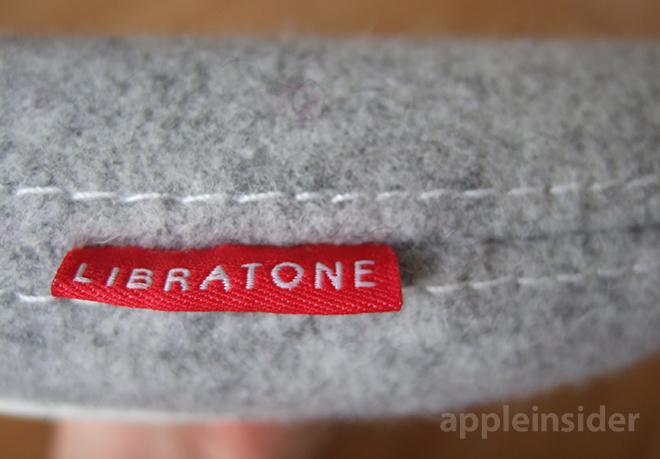 From a company less than five years old, the price points raised a few eyebrows, ours included. But once we got our hands on the Loop and fired it up, our eyebrows turned tail — furrowing as we tried to figure out how the speaker was producing such accurate top-end sound well beyond what its cabinet should allow.
Design
Libratone's entire range of products is covered fuzzy wool. The fabric serves as both a grille and aesthetic statement, as the texture draws eyes when surrounded by normal, everyday items made of smooth plastic and wood.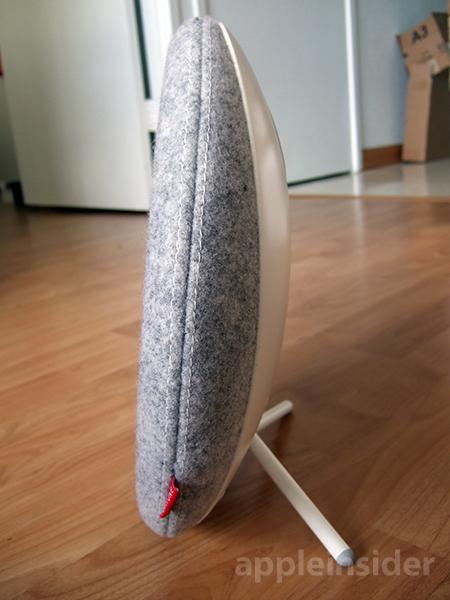 In its natural environment, that is on a shelf, floor or hanging on a wall, Loop both stands out and blends in. The use of wool is an interesting choice, and one not often seen mounted on a consumer electronics product. Then again, the fuzziness breaks up the speaker's facade, allowing it to melt into its surroundings.
Loop can be suited up with colored covers like blue, yellow, fuchsia and other bright hues if you want a statement piece. Our review unit came in Salty Gray. The covers can be replaced and are fitted with an elastic band at the edges, as well as a magnetic clip surrounding the control pad cutout.
The front of the speaker is a flat circle, hence "Loop," which slopes into a saucer shape around back. As with nearly all standalones, inputs and system controls are located on the rear of the plastic casing. These include AirPlay and direct Wi-Fi streaming mode selectors, a 3.5mm audio jack and standard USB port.
A rubberized cavity located toward the top of Loop's rear case serves as a carry handle and insertion point for the unit's included wall-mounting mechanism, which cleverly keeps the speaker just off the wall to avoid errant vibrations.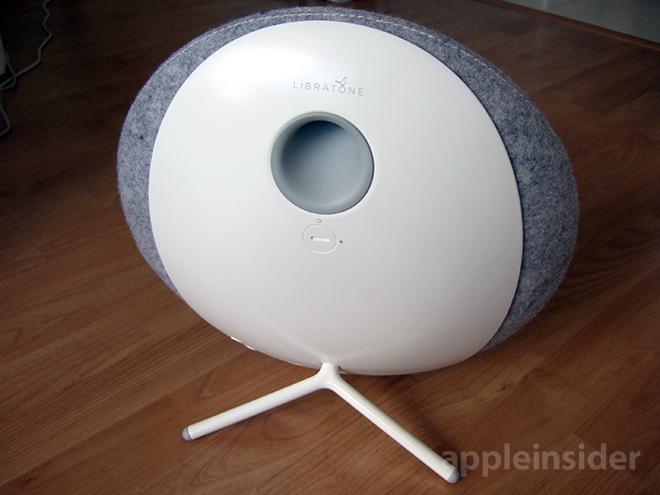 The front speaker control is more than reminiscent of Apple's tactile iPod button pad, which has now been relegated to just the Shuffle as the rest of the line moved on to touch screens. Unlike the iPod version, however, Libratone's setup only controls power and volume. The main button bearing the company logo acts as a power, standby and mute/unmute switch, while the surrounding ring actuates volume up/volume down switches.
A small LED situated at the bottom of the clickable control panel serves as a visual indicator of the unit's Wi-Fi and system status. When Loop is off, it displays a solid red light. Pulsing red indicates a system problem, while pulsing amber denotes startup. The LED "breathes" a white light when in standby mode, much like a MacBook's status indicator. Setup mode invokes a white breathing/flashing sequence, which turns to solid white when in use.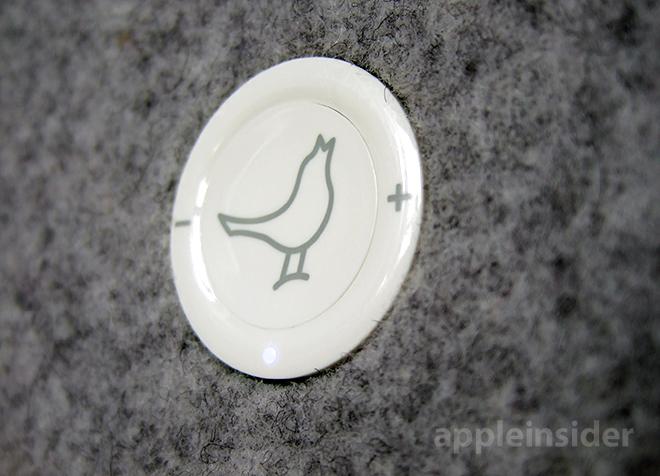 Removing the wooly front cover reveals a central four-inch mid-range driver flanked on either side by ribbon tweeters. Above the paper cone-carrying driver is a passive radiator, which allows the shallow cabinet to reproduce deep bass tones.
The driver and tweeters are backed up by a 120-watt amp that supplies enough power for small to medium size rooms.
Setup
Like other wireless AirPlay speakers, Loop is easy to set up right out of the box.
The easiest method by far is Libratone's PlayDirect. Not to be confused with AirPlay Direct, the functionality is included in the AirPlay chipset, but not commonly used by consumer — or even Apple — devices. Pressing the dedicated PlayDirect button on the back of Loop initiates the mode and advertises that the speaker is ready to connect via Wi-Fi. On an iOS device, Loop shows up as "Libratone [serial number]" in the Wi-Fi settings screen and, once connected, can stream music via AirPlay.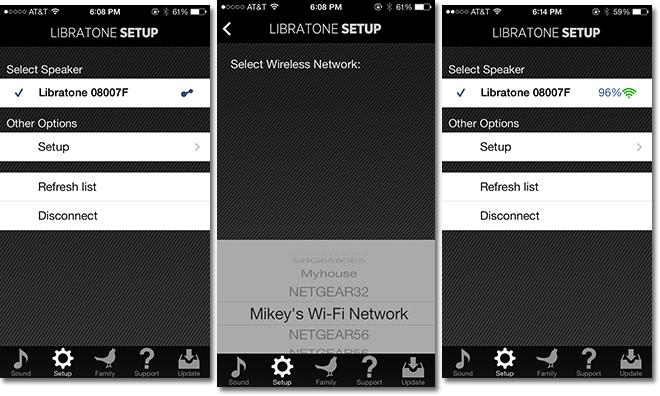 While effective, especially for portable AirPlay-enabled devices, DirectPlay may not be the best option for home use as an iPhone or iPad can only connect to one Wi-Fi network at a time, meaning users have to choose from Internet access or music streaming.
A more permanent setup would be to attach Loop to a home Wi-Fi network. Libratone offers a few ways to do this. The first is to connect an iOS device to the speaker's USB port, which will bring up a pop-up window asking to "Share Wi-Fi Settings" with Loop. Selecting "Allow" will automatically transfer the information, password and credentials of the Wi-Fi network to which an iPhone is connected.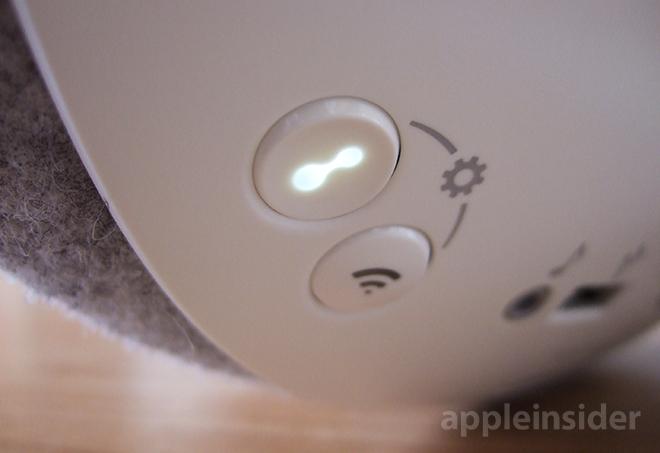 Alternatively, the Libratone app lets users set up Loop remotely by accessing the unit via a direct Wi-Fi connection. Macs and PCs can do the same by connecting to the speaker while in setup mode and logging network settings through a Web browser interface.
Once Loop has successfully hopped on a network, it will be selectable as an AirPlay device.
In use
As noted above, Loop is a great sounding speaker. We especially like the sweet, crisp high end only ribbon tweeters can reproduce. Unlike other active speakers in its class that use dome tweeters, Loop uses two ribbon type components usually reserved for more expensive systems.
The result is a crystal clear treble range that lends itself nicely to female vocals and strings. Brought up to adequate volumes by the integrated amplifier, the tweeters steal the show, vastly outshining the pedestrian mid-range cone driver.
Instead of taking over completely, however, the ribbon tweeters add to the four-inch driver's output in a kind of layered voicing. Because of the interesting component combination, Loop has a sound signature that stands apart from the crowd, though some may not find the top-heavy presentation appealing.
For those who listen to classical, vocals, jazz and certain types of rock, Loop is superb. The speaker reproduces other genres with a touch of coloration skewing toward treble shimmering, but the result is still better than most competing products. It should be noted that Loop is not a "bass monster." The sound is more sweet than it is neutral and very silky almost to the point of being loose.
Mid-range fidelity was decent enough, but not up to the same level as the highs. We would have liked to hear a more substantial body with full tones, but had to settle for a somewhat hollow midsection. Using the app's DSP-controlling sound selection tool, we were able to find a profile that plumped up the sound to an acceptable level.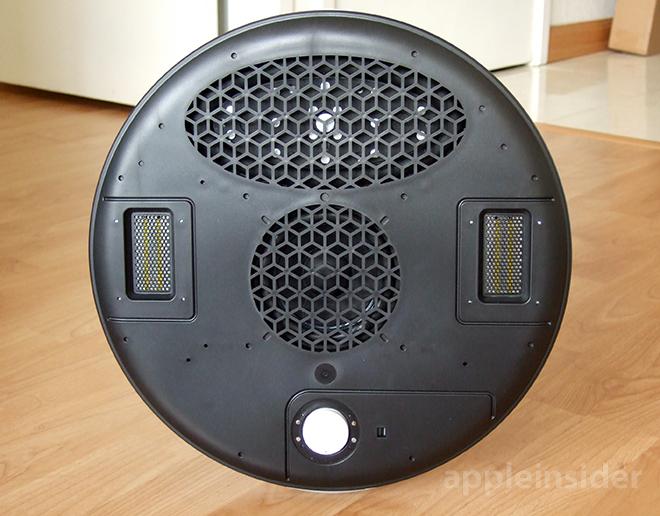 Bass was restrained and accurate, mostly because Loop's cabinet isn't vented, but that meant no floor shaking with boomy bass tracks.
As always, we turned the speaker up to its max volume to check for distortion. In our tests, we didn't hear anything disturbing from the passive radiator. This is an achievement all its own given that this particular speaker arrangement and size usually results in some form of hissing, buzzing or rattling at high volumes.
Loop's sound is extremely wide thanks to what Libratone calls FullRoom technology. From what we can gather, FullRoom uses signal processing to reflect sound off walls and objects. In the app, there is a FullRoom optimization option where users can enter Loop's proximity to nearby walls.
For example, the app will change the sound signature based on whether the speaker is sitting on the floor or shelf, as well as how close it is to the nearest back or side wall. In practice, we heard a slight change in soundstage and presentation when positioning Loop on the ground and tables. The best results, we found, were obtained when the speaker was near a hard back wall.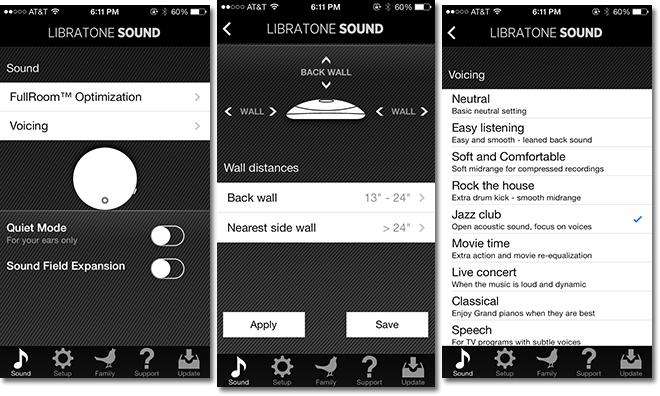 The app has a few other tricks up its sleeve, including a feature called "Sound Field Expansion," which basically artificially widens the soundstage. Another useful function is "Quiet Mode," which quickly drops playback volume by 12 decibels.
Conclusion
If your taste in music leans toward bass-thumping beats with an over-saturated mid-range, Loop is likely not for you. The speaker's design lends itself more to tight, restrained listening than raw output.
AirPlay's Wi-Fi connectivity makes Loop easy to access and the protocol itself delivers better sound than most Bluetooth setups thanks to support for high quality data compression.
For our taste in music and listening preferences, Loop is without peer in its size class. There are products that may offer a more filled-out middle, while others bring heavy bass, but none come close to the top end reproduction provided by Loop's two ribbon tweeters.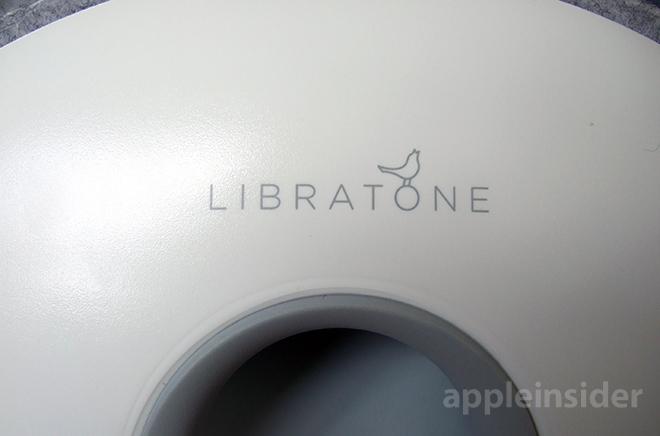 Overall, Loop is an outstanding performer for those who enjoy bright, clear sound. The only thing holding it back from being a top selection is its high price. But if you have the means, Loop is definitely worth a look.
Score: 4 out of 5

Pros:
Ribbon tweeters offer unparalleled treble fidelity
Wide, clean soundstage
Effective use of DSP technology
Cons:
Weak mid-range reproduction
Not as powerful as other in-class speakers
Wooly design is not for everyone