Google to push royalty-free VP9 4K video codec as H.265 alternative for YouTube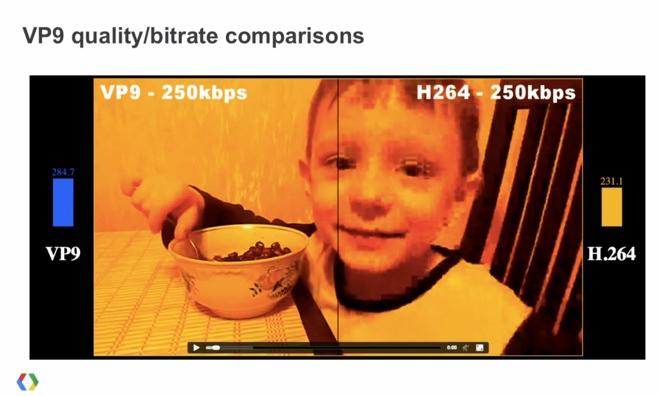 While VP8, Google's initial attempt at a royalty-free video codec, failed to gain much traction, the search giant is now focusing its efforts on ultra-high-resolution 4K video with its new VP9 codec, with a large-scale unveiling with YouTube multiple hardware partners set to take place next week, according to a new report.
At next week's Consumer Electronics Show in Las Vegas, Nev., Google is expected to debut the new VP9 codec as an alternative to H.265, capable of streaming 4K video on YouTube with fewer bandwidth needs, according to GigaOm. The company is said to already have a slew of hardware partners that have pledged support, including ARM, Intel, Broadcom, Marvell, Nvidia, Samsung, Sony, Sharp and Toshiba.
Unsurprisingly not among the list of initial hardware supporters: Apple.
The successor to VP8 has been in development at Google for some time, and the company has suggested its intention is not to completely replace H.265. Instead, Google says it hopes to create a royalty-free alternative that would ease bandwidth issues associated with 4K video content on its popular streaming site YouTube.
Francisco Varela, global director of platform partnerships at YouTube, dismissed speculation that VP9 versus H.264 would be "war of the video codecs." He suggested that YouTube could add support for H.265 in the future, alongside VP9.
Varela claimed YouTube's main goal is to reduce the amount of data necessary to stream ultra-definition 4K video. The new VP9 codec aims to reduce bandwidth necessary by half, and went as far as to predict that YouTube users will be "surprised" whenever a video has to stop to buffer by 2015.
Google last attempted to push its own royalty-free codec in 2010, when the company announced its WebM format, also known as VP8. That codec was acquired by Google as part of the technology portfolio of On2.
Critics, however, contended that VP8 offered no real advantages over its established alternative, H.264, aside from being royalty free. Apple, for example, opted to stick with H.264 and continue paying the low royalty fees, rather than embrace VP8.
Google was later forced to settle a patent dispute with MPEG LA, the group that manages the licensing of H.264 patents, over its use of VP8. That meant that although VP8 was initially pushed as a "free" alternative to H.264, Google had instead begun paying licensing fees for related streaming video patents.