First look: Kiwi Move lifestyle tracker and FUZ Designs iPhone/iPad docks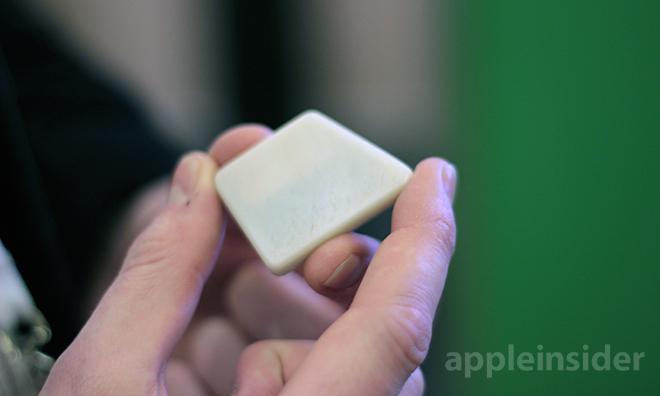 As the wearable device space heats up, Kiwi looks to make a splash with its tiny Move activity tracker and unique rule-based apps, while FUZ Designs docks brings dual-Lightning connector charging to iPhone and iPad.
Kiwi Move
The Kiwi Move carries a unique sensor setup when compared to competing wearable activity monitors. In addition to the usual accelerometer and gyroscope, the small device comes packed with a magnetometer, barometer, thermometer and microphone.
The Move uses these hardware assets to feed highly tuned rules-based apps, making for a powerful and versatile combination. Going further than just monitoring movement, the device can leverage its onboard communications suite to send information over Bluetooth LE and Wi-Fi.
In an "If this, then that" style demo app, users are able to program rules for Move to follow. An example in Kiwi's promo video shows the rule "When I wake up, make coffee." The device detects movement associated with waking up after a night's sleep (which can also be tracked) and turns on a Wi-Fi connected coffee maker.
By charting activities over time, like hours slept vs. working out, the app and hardware combo can drive behavioral insights. The data can then be used to share with their doctor, for example. In the video, a man completes a workout session and when he leaves the gym, his activity metrics are automatically sent to his trainer.
Developers will play a big role in Move's future. Kiwi claims only five lines of JavaScript code are needed to gain access to all sensor data. The company has already set up an a cloud-based algorithm to help analyze this raw data, aiding developers in creating unique apps. For example, different algorithms exist for standing up, sitting down, going to sleep and gestures, among many more.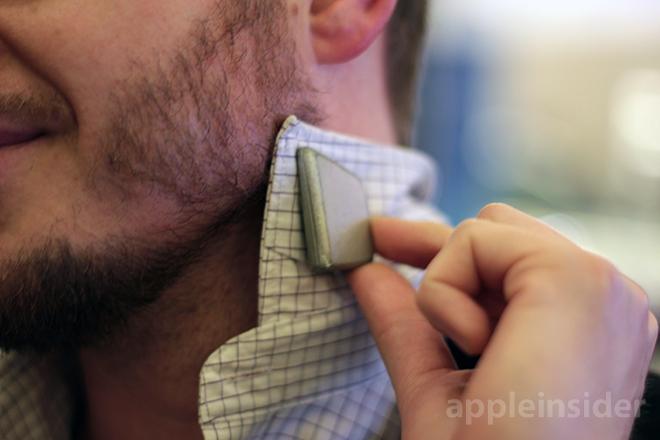 On the topic of gestures, users can activate sensor rules with hand signals, arm movements and other motions. A gesture can be associated with tagging a song via the built-in microphone, or used to initiate a workout profile.
Move can be worn with the included strap, clip or keyring connector for unobtrusive all-day use.
FUZ Designs
FUZ Designs showed off two EverDock models at CES. The EverDock is a minimalist aluminum dock that fits a variety of devices like Apple's iPhone and iPad, while the EverDock Duo doubles up with two device ports. Both accessories can handle Lightning and legacy 30-pin connectors, as well as micro-USB with its interchangeable cable harness.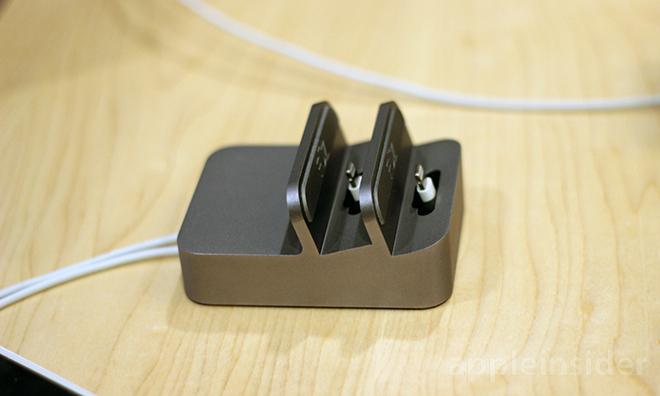 Although there are two docking ports, the EverDock Duo has enough space to fit a claimed 80 percent of portable devices out there, even when enshrined in a case.
Machined from a solid block of aluminum, the docks are bead blasted and anodized in four different colors: black, space gray, gold and silver. On the bottom, a microsuction pad firmly connects the docks to hard surfaces for easy device removal.
EverDock started life as a Kickstarter project and FUZ Designs shipped 10,000 units in December. The dual-charging version sells for $69, while the single-device unit goes for $49.