Hands-on: Magellan Echo smart sports watch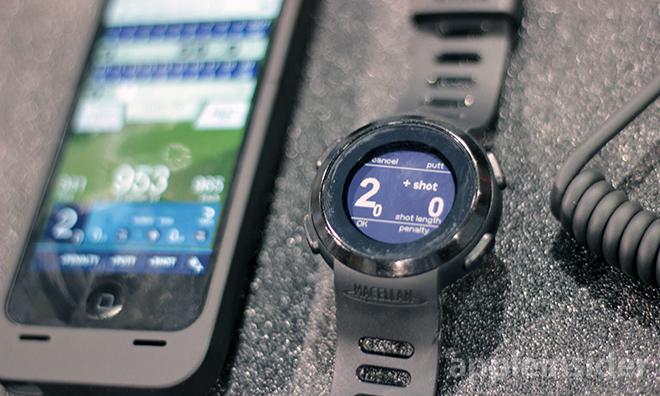 Navigation and GPS firm Magellan showed off its iPhone-connected Echo smart watch at CES, a multi-use tool built to display real-time data from a variety of sports apps including Wahoo, Strava and the "Map My" series.
Unlike other smart watches that run built-in apps, Echo is more of a remote display and control for sports software living on an iPhone. Using Bluetooth Low Energy, the device can display a real-time stream of statistics and information directly to a user's wrist.
"It's the closest experience to having Map My Run or Strava on your wrist, because we get out of the way," said Magellan's Anthony Pelosi.
When not connected to an iOS device, Echo turns into an everyday watch that can be customized with different display layouts.
When a user is ready to go for a run, however, they can launch a compatible app on their phone and switch Echo to "sports mode." The watch confirms the connection onscreen, at which point a user can stow their iOS device in a pocket or arm band. Interacting with Echo consists of button presses and tap gestures for easy activation while working out.
As an example, connecting to the Wahoo Fitness app allows users to start and stop workouts, control music and perform other in-app functions with taps. With this particular app, users can map Echo's button controls as they see fit, including the aforementioned tap gestures.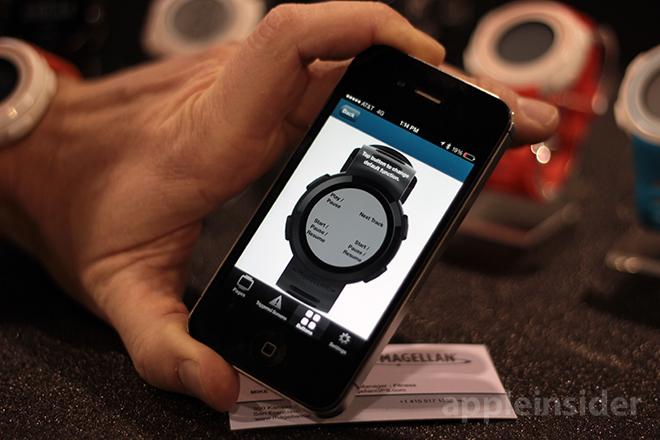 Not every app has Wahoo's depth of customization, though each "drives" Echo in that the application transforms the entire user experience. Instead of feeding data into Echo's menu hierarchy, data is piped to the watch as sort of physical app extension. The result is something very different than other smart watches like the Pebble, which has its own menu system.
Take iSmoothRun, which supports both Pebble and Echo, as an example. Pebble runs its menu hierarchy first, then accesses app data. On Echo, everything is driven by the phone with only one app running at a time, allowing for a more complete experience.
The idea behind Echo dates back to 2011 when Magellan had just come out with its first watch/GPS device for triathletes and cyclists, Pelosi said. He noticed people were relying more heavily on smartphones for sports activities like running, biking and golf. The trend was turning away from GPS to mobile.
"We noticed the number one complaint individuals had was that they were unable to interact with the app while doing the activity," Pelosi said. "For $150 dollars you have a running watch, golf watch, and biking watch. It's getting updated all the time thanks to our app partners, allowing those developers to have a presence on the wrist."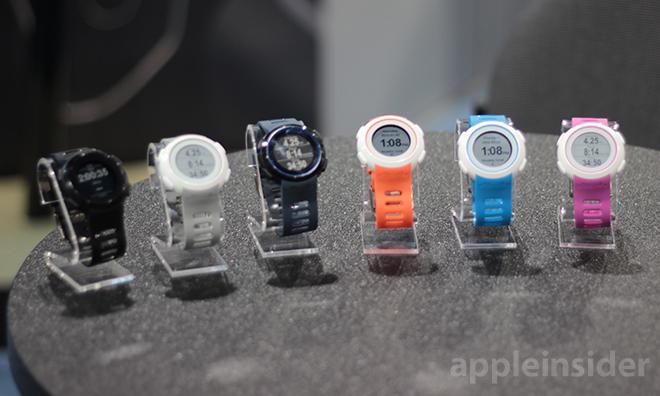 Magellan's Echo is powered by a replaceable CR2032 battery and comes with straps suitable for small and large wrists. The watch went on sale in October of 2013 for $149 in orange, blue and black. In April, the company will add gray, pink and dark blue to Echo's color palette, while a dedicated skiing app is slated to debut on Mar. 1.