Turkish president wants Apple to invest R&D capital, offers tax incentives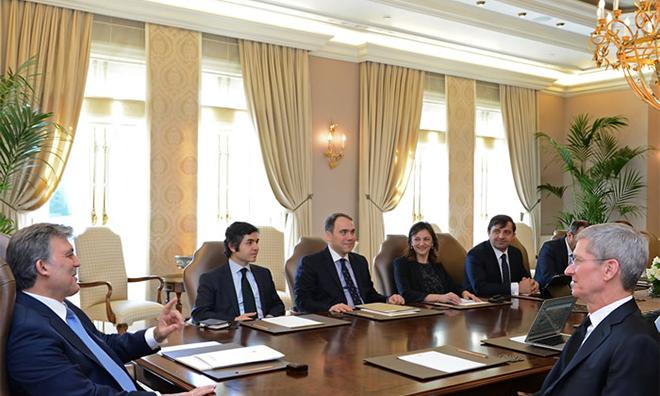 During a high-level meeting on Tuesday, Turkish President Abdullah Gül called for Apple to invest in the state's growing technopark initiative, while CEO Tim Cook confirmed plans for a "unique" flagship Apple Store in Istanbul.
As noted in a brief report of the meeting posted to the president's official webpage, Gül asked that Apple consider Turkey for future research and development activities.
By having a base of operations in Turkey, consumers would look at Apple not only as a purveyor of goods, but as a company that adds value to the country, the president said. He mentioned that the technopark project is continually growing with new investments "everyday," though details on which companies were sinking capital into the region were not disclosed.
Despite being one of the more important issues at hand, not much was revealed regarding the FATIH education project. When it was announced that Cook was in Turkey to visit Gül, it was speculated that the meeting would revolve around the initiative that could be worth between $3 billion to $4 billion.
FATIH is an aggressive high-tech educational plan that looks to put up to 15 million tablets into the hands of Turkey's students. Apple VP of Education John Couch previously met with Gül to discuss the deal in 2013. Turkish Prime Minister Recep Tayyip Erdoğan, the man behind FATIH, subsequently visited Apple's Cupertino headquarters to get a better understanding of the iPad in education technology.
Moving on to the subject of retail, Cook said that Apple plans to open a "unique" Apple Store in Istanbul this April. Without going into detail, the Apple chief revealed the location will boast features and a design concept seen nowhere else in the world.
In December, a report surfaced claiming the new Istanbul outlet is to be located at Zorlu Center and would showcase a large glass cap structure like those seen at Apple's flagship stores in New York and Shanghai.
Apple opened the doors to its Online Apple Store in October, marking the company's first official retail presence in the country.
Other topics of discussion included localization of Apple's Siri virtual assistant, the iOS implementation of a Turkish keyboard and increasing local App Store content.