Apple clears hurdles for large-scale iOS device deployment with updated IT tools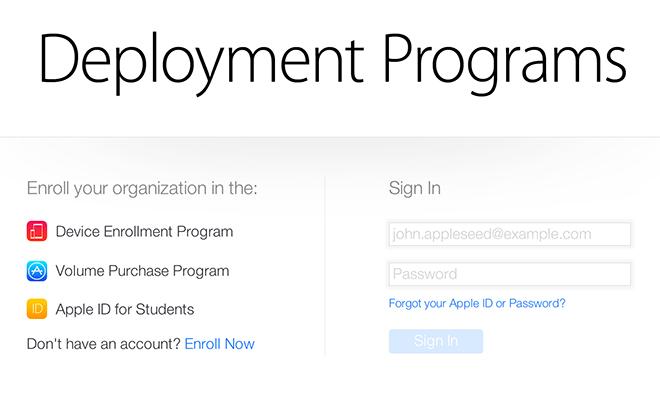 AppleInsider may earn an affiliate commission on purchases made through links on our site.
Apple on Wednesday revealed a variety of changes and additions to its iOS device deployment and management tools for IT professionals in a bid to streamline mass deployments for large enterprise and education institutions.
Earlier this month, AppleInsider reported that Apple looked to be prepping a mobile device management overhaul that included wireless supervision and configuration features. With an update to the company's IT website, it appears many of those tools have been activated.
According to an in-depth report from TechCrunch, the changes made to Apple's enterprise and education programs are wide-ranging and suggest the company is looking to make a major push in large-scale iOS deployments.
Many of the additions and tweaks to existing IT tools can be found through Apple's iPhone in Business webpage under the IT deployment category. A Device Enrollment Program Guide (PDF link) offers a brief overview at some of the changes, including updates to the Volume Purchase Program and Apple ID for Students Program.
Counted among the device rollout features is a "zero-touch configuration" tool that can automate the Mobile Device Management (MDM) system over wireless communications. This is a vast improvement over previous iterations of Apple's deployment method, which required physical access with each device to set up.
Supervision of deployed devices can also be accomplished wirelessly via the MDM server. Apple offers examples of turning off iMessage of Game Center on certain devices, Web content filtering and other system-level custom configurations. Wireless supervision can be enabled during the setup procedure.
Apple notes that while critical device information can be seen through the MDM server, personal account information remains hidden for user security. For example, personal email, SMS or iMessages, calendars, contacts, Safari browser history and other metrics are not available for viewing.
Enrollment for the program is also made easier with a new dedicated webpage called "Deployment Programs." Though the site's name has been updated from "Volume Services," a temporary title used during Apple's beta testing phase with select MDM vendors and institutional clients, its function of verifying qualifying businesses and educational institutions remains the same. Other services are also attached to the website to make new enrollments and management easier for the end user.
A more thorough rundown of the deployment program's new toolset and protocols can be found in Apple's iOS Deployment Technical Reference Guide (PDF link).