Medium launches on iOS as read-only app focused on content curation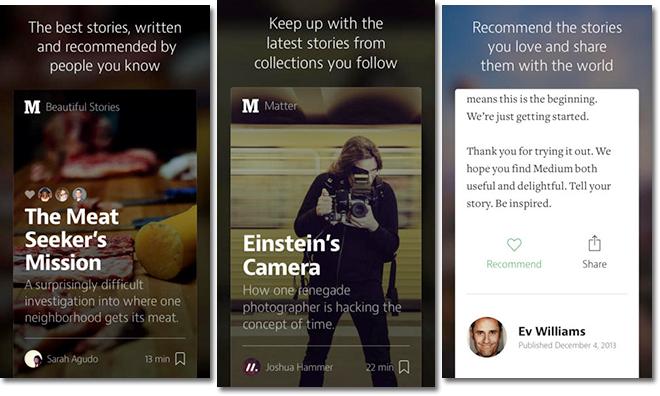 Blogging platform Medium on Thursday launched its first iOS app, a read-only content aggregator that allows users of the online service to quickly browse followed collections, view recommendations and find new stories of interest.
Unlike its Web counterpart, Medium for iOS is read-only, making it more of a consumption app than a tool for production. Instead, the app plies Medium's clean and easy-to-use user interface to mobile content aggregation and discovery.
After signing in with a Twitter account — unsurprising given Medium is the brainchild of Twitter's Ev Williams — the app pulls from stories trending on the Medium website, new content from a user's followed writers and new additions to a user's subscription list.
Users of the service will find the layout familiar, with stories grouped into collections like "This Happened To Me," "Better Humans" and "We Live In The Future."
In-app controls are intuitive, with navigation handled by left and right swipes instead of screen taps or static buttons. Reading controls are handled by up and down scrolling gestures.
As with most recent iOS apps, Medium hooks into social networks and allows users to share stories via Twitter and Facebook, iMessage and email. Bookmarking and recommending of stories is also supported, with user account changes reflected on Medium's Web platform.