Apple working on voice-recognizing headphones with built-in accelerometer, beamforming mics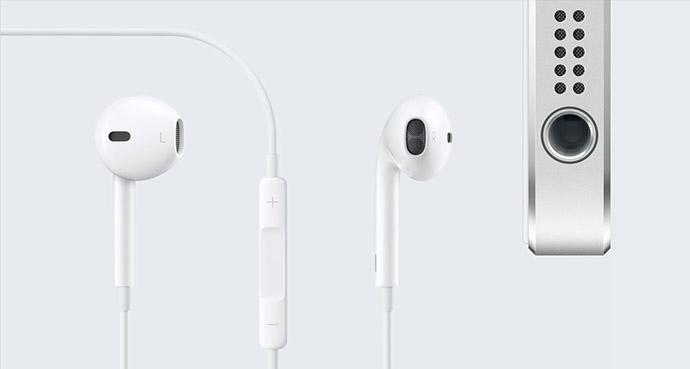 Apple is looking to advance the design of its bundled iPhone EarPods by potentially implanting an accelerometer into the earbud portion that could recognize voice activity, which in turn would activate and tune beamforming microphone arrays.
According to a patent application published by the U.S. Patent and Trademark Office on Thursday, Apple is investigating an enhanced headphone device that can recognize a user's voice, activates multiple on-board microphones, turns on a noise suppression system and directs beamforming mics toward a user's head.
According to Apple's "System and method of detecting a user's voice activity using an accelerometer" the enhanced earbuds are loaded with on-board sensors, including an accelerometer and two microphones. These sensors, in tandem with a microphone array located along the headphone wire, form a noise-suppressing system much more advanced than the company's EarPods product.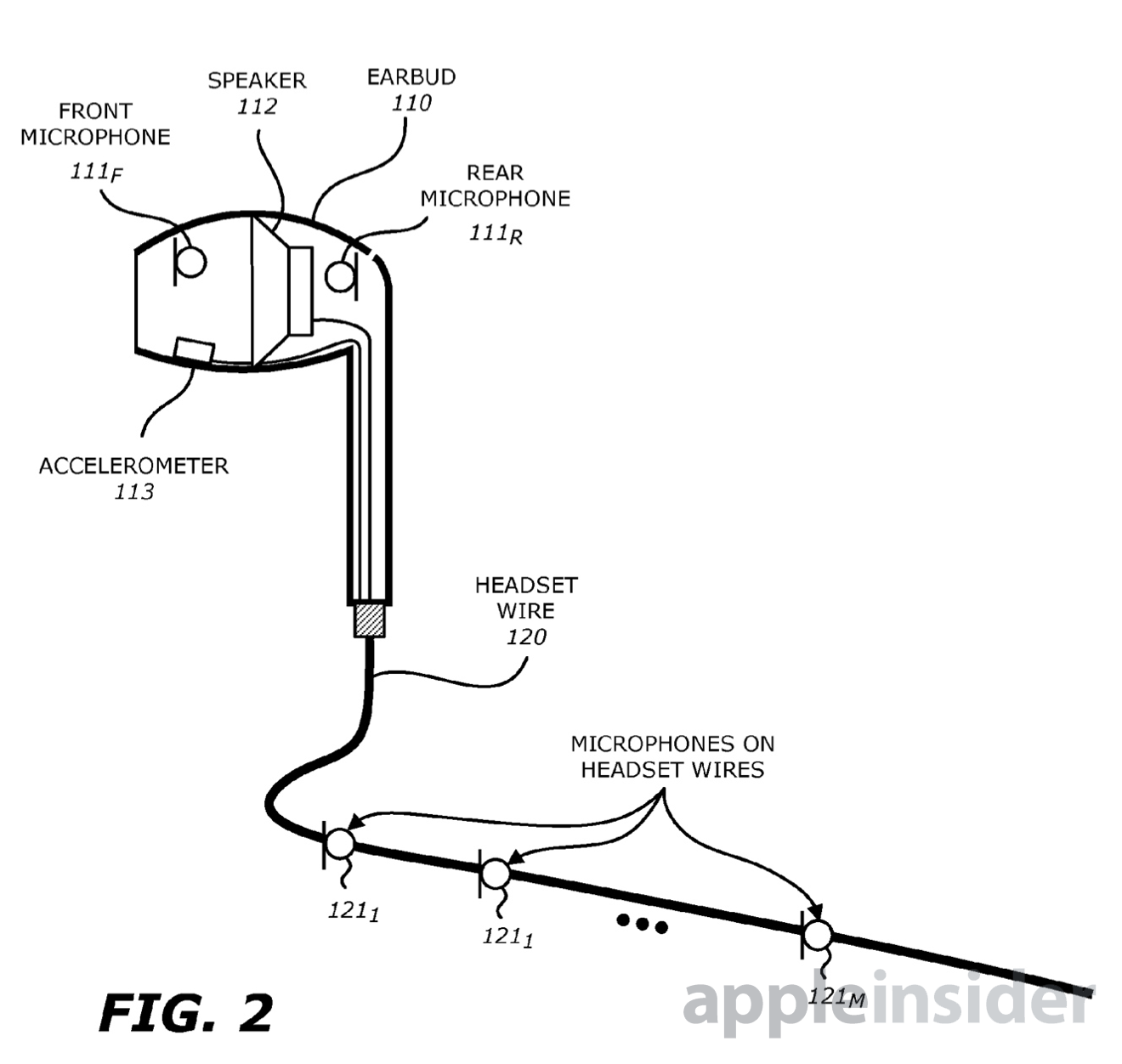 The method begins with the accelerometer. In some embodiments, the sensor is used as a voice activity detector (VAD) that detects vibrations generated by a user. Both voiced speech (generated by a user's vocal chords) and unvoiced speech (generated without use of vocal chords) can be detected by the accelerometer via vibrations propagating through tissue and bone.
Detected accelerometer vibration data from is joined by signals from front- and rear-facing microphones embedded in one or both earbuds. In some embodiments, the accelerometer is tuned to detect lower frequency vibrations in what is called a VADa system. Alternatively, signals output from the two microphones can be used to determine voiced speech, or a VADm arrangement.
The VAD system scans for both voiced (VADv) and unvoiced (VADu) signals, which are combined with other signal data to inform a noise suppression circuit. Based on the information, noise from the area surrounding a user can be estimated and an effective beamforming algorithm can be applied to the system's various mic arrays.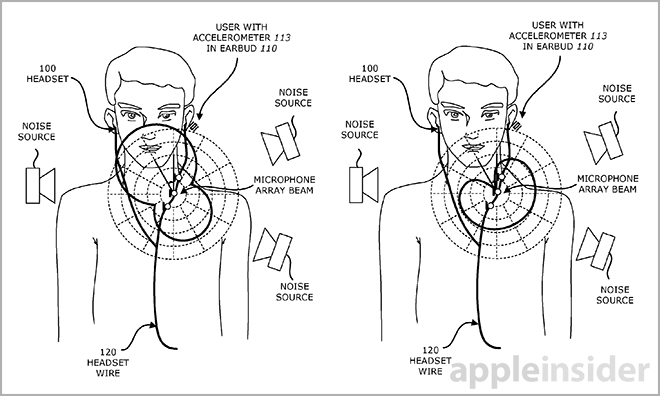 In some embodiments, mics located in the heaphones and along the unit's wire are set to a general beamform directed at the user's face. Alternatively, a more active beamformer is described that can be adaptively steered depending on VAD output. For example, the accelerometer-based VAD can be used to steer the beamformer toward a user's mouth.
Alternatively, a noise suppression system can be made more effective by steering microphones in the direction of ambient noise not associated with voiced or unvoiced speech, which is then removed from the signal.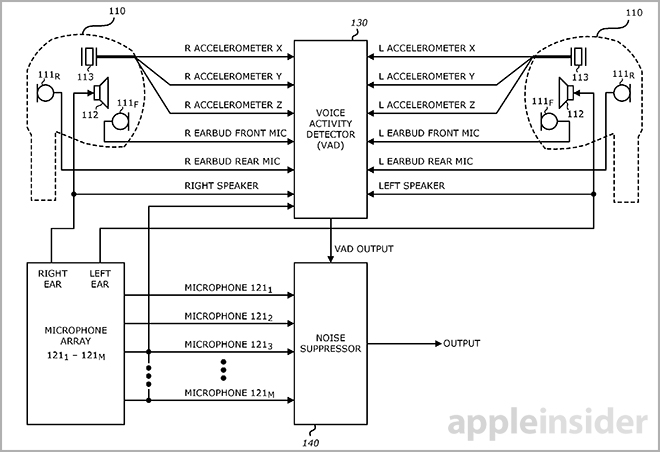 It is unknown whether Apple will implement the invention in a future earphone, though the EarPods would certainly benefit from noise-canceling tech. Hardware already exists to build such a system, as seen in the MacBook lineup's beamforming mics.
Apple's VAD-equipped headphone patent application was first filed for in March 2013 and credits Sorin V. Dusan, Esge B. Andersen, Aram Lindahl and Andrew P. Bright as its inventors.