Microsoft shows off new 'Windows in the car' concept to take on Apple's CarPlay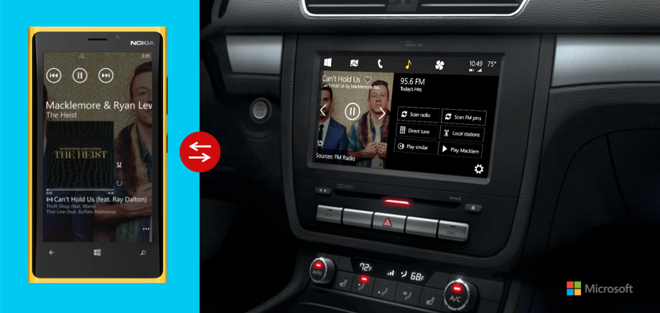 AppleInsider may earn an affiliate commission on purchases made through links on our site.
Software giant Microsoft is planning to revamp its in-car offerings after suffering setbacks with the existing Sync platform, unveiling a new "Windows in the car" initiative at the company's annual Build conference in San Francisco.
Microsoft's new automotive platform sports a similar architecture to Apple's CarPlay, using a mobile device running Windows Phone to power the in-car display. The system, which the company says is still a concept, was demonstrated last week by Microsoft product executive Steve Teixeira and first noticed by The Verge.
Visually, the system looks like a cross between Windows 8 and Windows Phone. Microsoft's famous Live Tiles have been included, and the touch-targeted interface is paginated to allow for expandability. Users can also enjoy what Teixeira calls "a really nifty swishy sound" when moving between pages.
According to Teixeira, Windows in the car will be open to both third-party developers and automobile manufacturers. During one demonstation, the system was shown with the ability to control vehicle functions — such as turning on and off a defrosting system and tuning the radio — and displaying hyper-localized navigation information like whether or not the vehicle was currently in a school zone.
"There's this opportunity for application developers to also participate in this ecosystem in a couple of different ways," Teixeira said. "You can imagine that, maybe if my car's in park, I can run any kind of arbitrary app, you know, project that up to this screen. But if my car's in drive mode, one of the things that we will aim to do is enable application builders to write apps that conform with good, safe drive mode behavior and safe drive mode user interface standards."
Microsoft has been testing the concept in both simulators and real-world vehicles, with one slide in the presentation showing badges from marques Ford, Kia, BMW, Nissan, and Fiat. Windows in the car is based on the industry standard MirrorLink protocol, which likely opens the door to aftermarket adoption as well due to the variety of automotive electronics manufacturers — including Sony and Alpine — that have committed to ship products compatible with the standard.
Though there is no word on when Windows in the car will be available, its debut comes less than two months after Microsoft's existing in-car platform, Sync, was dealt a body blow. Automotive behemoth Ford, Microsoft's largest partner for Sync, announced in February that it would stop producing Sync-equipped vehicles and instead turn to a new BlackBerry-built system.
Apple's own infotainment system, CarPlay, was officially announced by the company in March at the Geneva Motor Show. A rebranding of the "iOS in the Car" functionality unveiled by the company last year, CarPlay will debut in select vehicles this year from partners Volvo, Honda, Mercedes-Benz, Jaguar, Hyundai, and Ferrari. Future partners include Ford, Chevrolet, BMW, Kia, Toyota, Nissan, Mitsubishi and more.