Notifyr brings iOS notifications to the Mac; djay 2 adds 20 million songs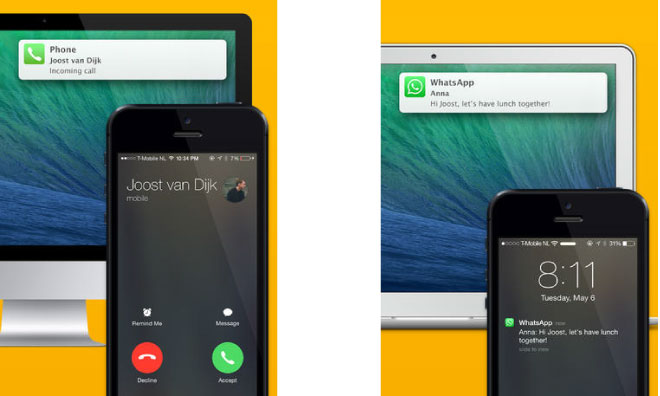 iPad-toting disk jockeys now have a wealth of new material to play with thanks to new Spotify integration in djay 2, while users who have been waiting for a way to broadcast iOS notifications to their Mac can do so with new entrant Notifyr.
Notifyr
Notifyr is actually a combination of two discrete apps: an iOS app, available in the App Store, and a companion app for Mac. After pairing the two, notifications that come in to a user's iPhone, iPad, or iPod touch are forwarded to the paired Mac and displayed in Notification Center.
Apps can be muted on an app-by-app basis to avoid doubling up notifications that users already receive on their Mac. Notifyr uses Bluetooth Low Energy to make the connection, and as such is only compatible with Bluetooth 4.0-enabled devices — iPhone 4s and newer, 2011 or new MacBook Airs, 2012 or newer MacBook Pros, Late 2012 or newer iMacs, 2011 or newer Mac Minis, and the Late 2013 mac Pro.
Notifyr is available now as a $3.99, 1.8-megabyte download from the App Store.
djay 2
Long one of the most popular apps in the App Store, djay 2 received a major overhaul Thursday from creators Algoriddim. Topping the list is integration with streaming service Spotify, which the companies say will give users access to more than 20 million songs to use in their mixes.
Most of Spotify's core features are included, including library access and social sharing, while Echo Nest-powered song recommendations and Atomix Radio also make an appearance. A premium Spotify account is required, though the service offers a 7-day free trial.
Algoriddim has also added an all-new Audio FX section, providing users with "desktop-class" audio effects, wet-dry mixing, and Strip-based FX. Additionally, the company promises UI improvements, better filters, and "Lots of performance improvements and bug fixes."
djay 2 is available now as a $4.99, 57.5-megabyte download from the App Store.