Low institutional ownership of Apple shares continues, despite stock's recent highs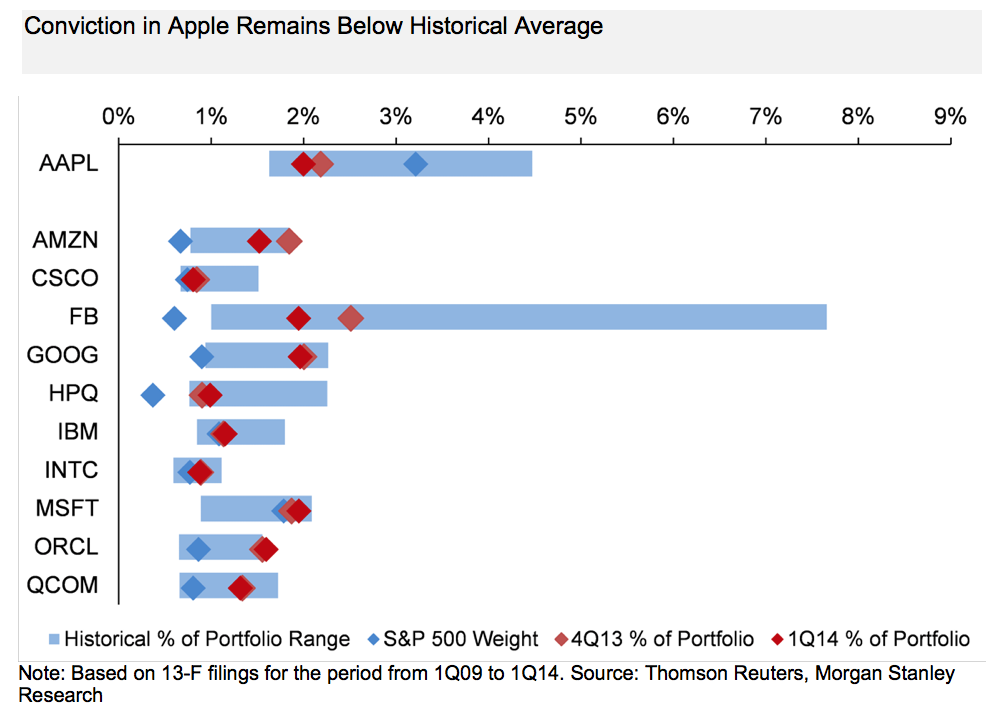 Though shares of Apple have been trending upward lately, institutional investors — including hedge funds, banks, mutual funds and other powerful types of financial institutions — Â have not yet bought in, suggesting that when they do, AAPL stock could move much higher.
Analyst Katy Huberty with Morgan Stanley issued a research note to investors on Friday, a copy of which was provided to AppleInsider, revealing data showing that the top 100 institutions reduced their positions in Apple from the fourth quarter of 2013 to the first quarter of 2014. As it stands, Apple is the only large-cap technology company where institutional ownership is below the S&P 500 weighting of 3.2 percent — Amazon, Google, Facebook and even Microsoft are all currently ahead of their S&P 500 weighting.
That's because institutional investors recently rotated into "value" and out of "hyper growth" stocks, Huberty said. That transition is said to have benefitted HP and Microsoft, both of which saw their portfolio allocation levels grow 10 basis points from the fourth quarter of 2013 to the first of 2014.
As it currently stands, the top 100 holders of AAPL stock are "significantly underweight," Huberty said. That's in contrast to the "overweight bias" the same investors have for every single other large-cap stock in her analysis, which also includes names like Cisco, Oracle, Qualcomm, Intel, and IBM.
"We believe this sets up well for further share price upside heading into the iPhone 6 product cycle, iWatch launch, and potential new services," Huberty said.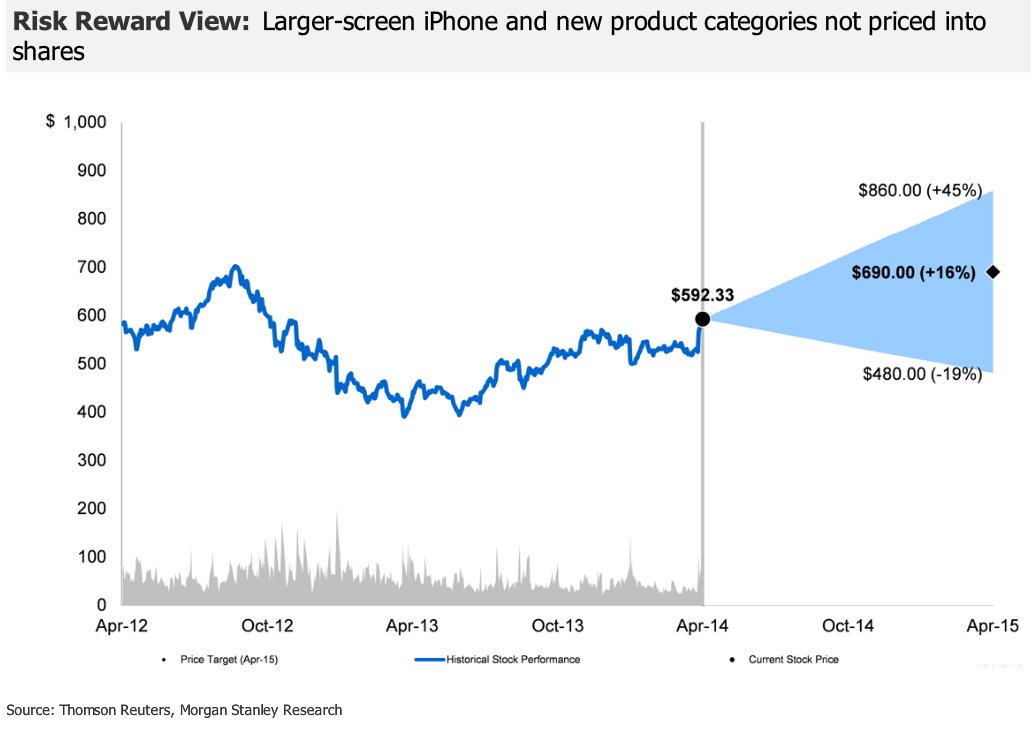 The same analyst called out unconventionally low institutional ownership of Apple in February, noting that ownership of AAPL stock among powerful financial institutions had reached a new 5-year low.
Back in February, Huberty revealed that the top Apple shareholders had allocated 2.2 percent of their total portfolios to the iPhone maker. Since then it's actually dropped 20 basis points to 2 percent, while Apple's S&P 500 weighting grew from 2.9 percent to 3.2 percent.
Morgan Stanley continues to see a buying opportunity in Apple for investors, and has maintained its "overweight" rating for the company's stock. Its baseline price target is $690, though the firm has a "bull case" outlook of $860.